You may wonder what WeTransfer is and how the platform works. Many people talk about it because it is quite fashionable. No wonder different professionals utilize it, particularly digital marketers and those who run online businesses.
What is WeTransfer?
WeTransfer is an online platform that helps users to share content with other users free of charge. In today's business world, file sharing is an important service. Emails are only good for sharing very small files while Google cloud service or iCloud works well for high-quality videos, photos, and documents. However, the storage space allocated to users soon becomes full, requiring frequent cleanup.
WeTransfer introduced a solution to the problem of continuous file sharing without thinking about how to manage storage space. It allows users to send large files to people via email.
The platform can be compared to Dropbox except that it has different features. The basic functionalities of the platform can be enjoyed for free while people who want more features can upgrade to WeTransfer Pro, the paid version.
Call Us now
How Does WeTransfer Work?
WeTransfer works like a typical email account but supports large files. You just need to input your email address and that of the receiver, add your message, attach the file, and send.
The basic service is offered for free and you do not need to sign up to use it. You can send files as much as 2GB. This should be enough to share some high-resolution pictures or a few videos. Upon sending, the recipient receives an email containing a link to the files you shared, and voila! You have succeeded in sending large files without choking your email service provider.
You can use it once without bothering about adding the recipient to your list of contacts. There is also an option for setting an expiry date for your files such that the system automatically deletes them. This feature helps to free up your storage space.
Additionally, users can manage transfers and track downloads using the free account. The paid account, WeTransfer Pro, has more features that you can customize to suit your needs.
How to Set Up WeTransfer?
WeTransfer's free service allows users to send most files without setting up an account. But if the files are extra-large, the platform will request a password to secure the transfer. To get a password, you need to set up a WeTransfer Pro account.
The upgrade costs $12 each month, but if you are paying for the whole year, it will cost you $120, saving you a whopping 17%.
Here is how you can set up the paid account:
Step 1:
Open your browser and go to www.wetransfer.com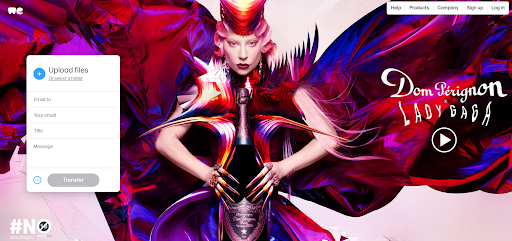 Step 2:
Click on "Products" at the top right side of the page

Step 3:
Click on the CTA button that says, "Sign up for Pro"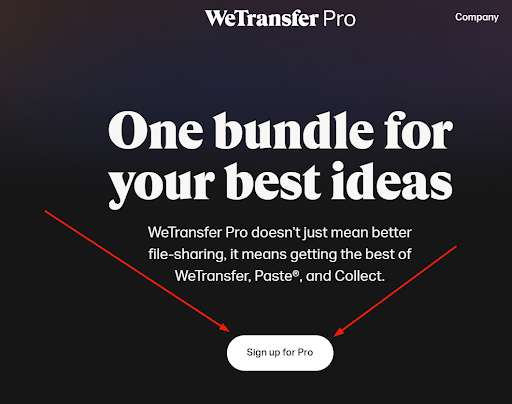 Step 4:
You can choose to create an account using your Google or Slack login details or enter your details manually.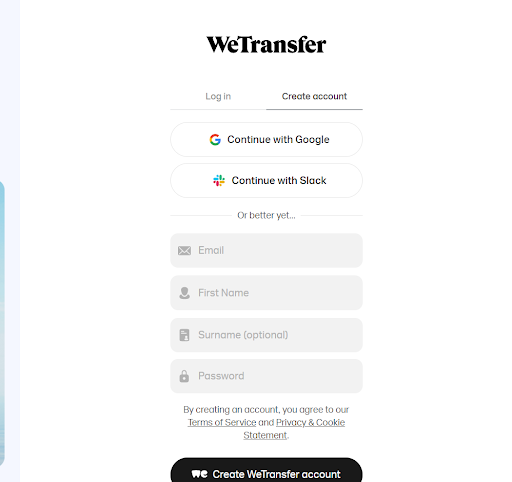 If you want to enter your details manually, you need to input your
email address
first name
surname (optional)
password
Note:
Your password must be at least 8 characters and a combination of uppercase and lowercase letters as well as special characters and numbers.
Step 5:
Click on "Create WeTransfer account" to create your WeTransfer Pro account.
Step 6:
Select your preferred payment plan, yearly or monthly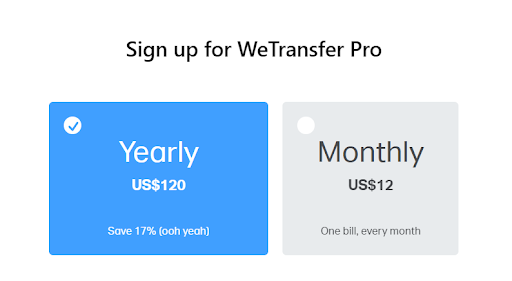 Step 7:
Enter your billing information:
Company (optional)
Address
City
Zip Code
Country (the system automatically detects your country)
VAT (optional)
Although VAT is optional, WeTransfer charges 21% VAT for companies located in the Netherlands. If your company is located anywhere else in the EU, ensure you input your company's details and EU tax ID so you can be exempted from VAT payment.
Step 8: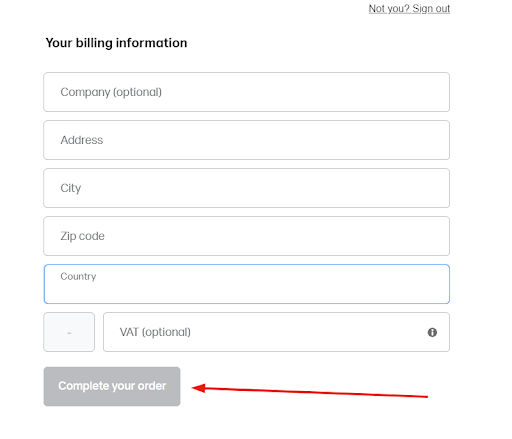 Click on "Complete your order"
Step 9:
Enter your credit card details or you can choose to pay via PayPal.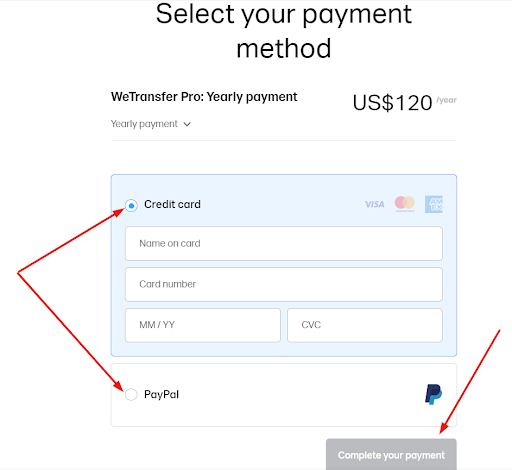 Step 10:
Click on "Complete your payment" as shown above.
The system will process the payment and automatically log you into your account. You can now transfer very large files using the advanced features the account offers. You can also set up a channel.
WeTransfer does not have any trial plan for its paid account. You must sign up and pay before you can use it. But if you are not satisfied with the service or just want to cancel your subscription, you can take advantage of the 30-day refund policy to get your money back.
If you sign up for the yearly payment plan, the company will automatically renew your subscription the following year. But if you want to change to the monthly plan, you can go to the Account settings tab and click on payment. Ensure you update your business details and/or preferred payment method before the next payment is due.
How to Use WeTransfer?
Basically, many people use WeTransfer's free service, so they do not need an account to use it. transferring files on the platform is very easy. Here's how to do it:
Step 1:
Go to WeTransfer's home page.
Step 2: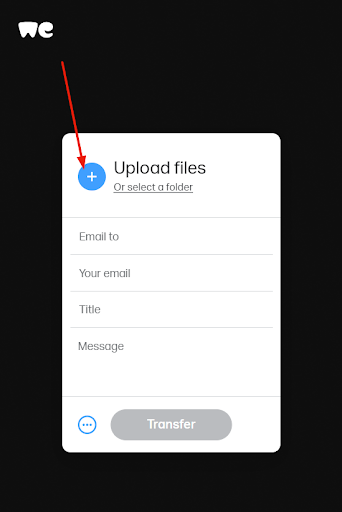 Click on "Upload files" to upload a file or click on "select a folder" to attach files from a particular folder. You can also click on the plus icon to add more files.
Step 3: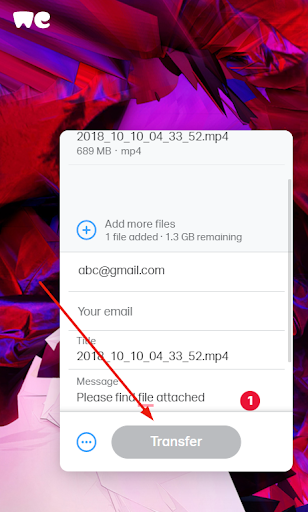 Input the email address of the recipient as well as your own email address. The site will automatically input the title of the file if you had clicked on the "select a folder" option.
NB: In the example above, the file I attached is an mp4 of almost 700mb.
Step 4:
Write a short message to the recipient; this is optional.
Step 5: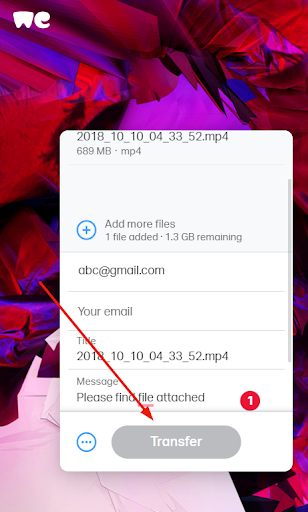 Click on transfer to send a direct email message or click on the three dots at the bottom of the interface to select "get transfer link".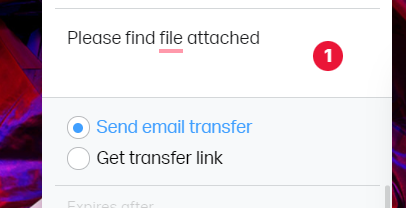 That means you have two options available to you. If you choose the transfer link option, it means the recipient will receive a link to download the file you uploaded.
Step 6:
Verify your email.
The company will send a verification code to your email just to be sure it's really you, not an impersonator.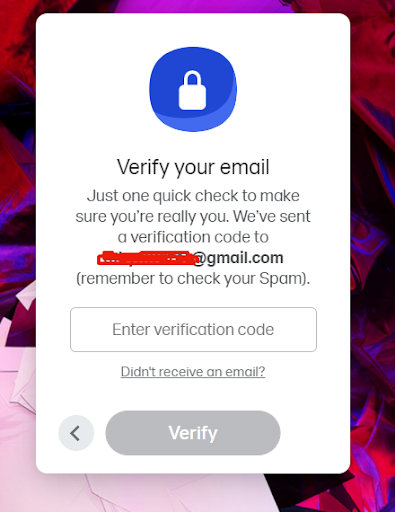 The code will remain active for only 60 minutes. When the time elapses, you must request another code. However, if you upgrade to the paid account, you do not need to input a code before transferring files.
Step 7:
Input your verification code, then click on "verify".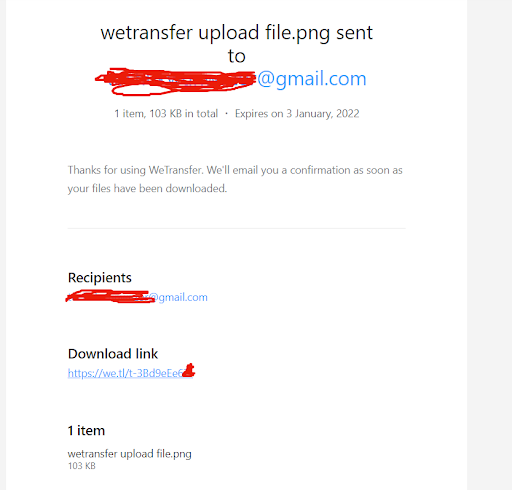 The message is sent within split seconds irrespective of the size of the transfer. You can perform another transfer immediately. However, the upload will be available for only seven days.
WeTransfer will send you an email after sending the file. You will receive another email when the recipient downloads the file, while the recipient gets something like the screenshot below.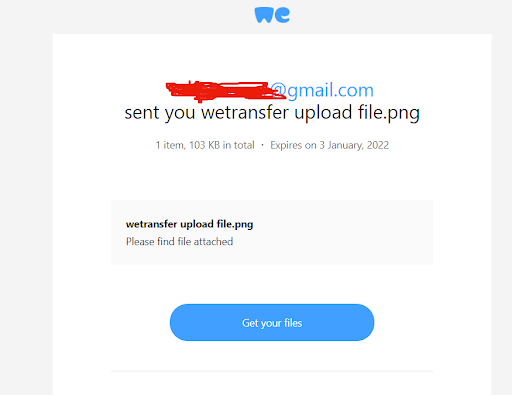 If you use the link option, the visibility features won't be available. This means that anyone with your link can access your files without your knowledge. The surest method of securing your files is to protect them with a password, which you can obtain when you pay for WeTransfer Pro.
What Are the Features of WeTransfer?
With WeTransfer, users can safely save and share files online. It also has additional features for businesses in the creative industry. You do not need an account to transfer files; just go ahead and enter the email address of the recipient or generate a link for the transfer. But if you set up an account, you can access additional features such as:
Tracking downloads
Storing files
Saving contacts
Setting an expiration date for files
Setting a password for your files
Branding your download pages
Whether you send files via link or email, they are saved in your WeTransfer account, and you can access them from any browser.
You can see when the recipient downloads the files or who is using your link to download files. You can also delete the files to stop further downloads.
WeTransfer has a storage application, "Collect", which is available to Android and IOS users.
The app allows you to create various content or boards and share them with collaborators. If you sign up for WeTransfer Pro, you can co-create content with your colleagues or partners.
In summary, the features of WeTransfer include:
Send large files at once.
Customizable emails, backgrounds, and URLs.
Protect transfers with a password.
Large storage space.
File comments.
Apps for Mac, iOs, and Android users.
How Do You Receive Files from WeTransfer?
If you're a recipient of files sent via this tool, WeTransfer will send you an email containing a link to the files. All you need to do is click on it. Or, you can click on the "get your files" tab in the email.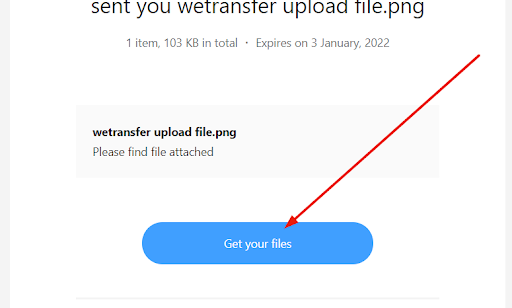 You will be directed to the WeTransfer download page.
Click on "I accept" to accept the cookies. You can also click on "manage cookies" to select your preference. If you are not comfortable with accepting cookies, click on "No, thanks".
Another interface will pop up, requesting you to click on "I agree" to agree with the company's terms and conditions. You can click on "Terms of Service" to find out what is acceptable or not.
After agreeing with the T&Cs, the download interface will pop up.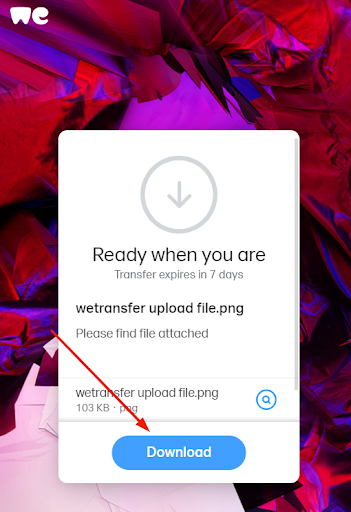 Click on "Download" and the files will download to your computer.
The person who sent you the files will receive an email from WeTransfer confirming your receipt of the files. Also, after downloading them, WeTransfer will send another email to the sender, informing them that you have successfully downloaded the files.
How to Download Files from WeTransfer?
You can receive files from WeTransfer users through the download link or email. In both options, you will be redirected to a recipient page where you will see a download button. You do not need to have a WeTransfer account to receive files.
Simply click on the button and start downloading.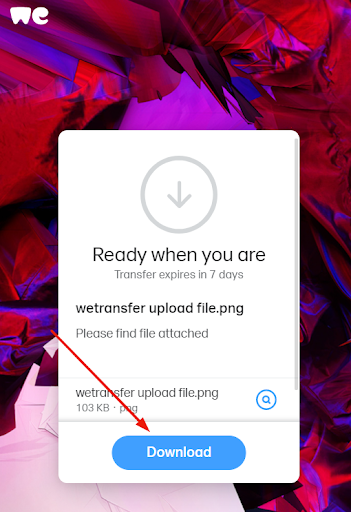 But if the sender has a paid account, they can decide the expiry date of the files or choose to make them available indefinitely. You will see the expiry date when you want to download the files. It is important to note that any file deleted from WeTransfer's server cannot be retrieved.
Chat with us now
How to View and Manage Transfers on WeTransfer?
Whether you shared files or others shared their files with you, WeTransfer keeps a record of every transfer made on the platform. Therefore, you can view the expiry date of the files, whether the recipients downloaded them or the link was forwarded to people who you may not know.
Provided the transfers have not been deleted, they will be stored in your account in the Received or Sent panels.
You can find the panel when you click on "transfers" on your dashboard.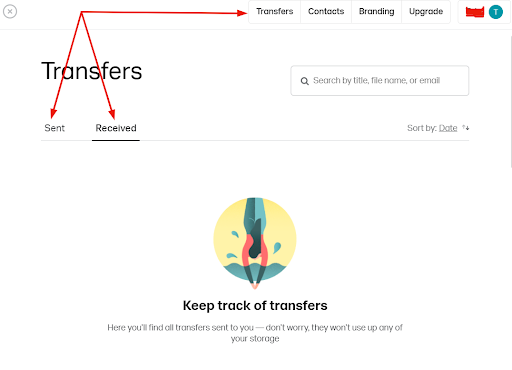 Received
Here, you can view all transfers sent to your profile. They will appear in chronological order, named after the sender. This makes it easy to identify who sent the files and when they will expire. You will also see whether you have downloaded them or not.
Sent
In this panel, you can manage your storage space, change the expiry date of files, or forward files. You can also check whether your files have been downloaded or not. The panel helps users stay organized.
What Are the Advantages of Using the WeTransfer Platform?
The main advantages of using the WeTransfer platform are:
1. No Need to Create an Account
Other traditional online sharing platforms require account creation or registration which involves filling a long and boring form as well as confirming your email address before you can start sharing files.
However, WeTransfer skips the process entirely, giving users the benefit of using the service without hassles and for free. This also applies to whoever is receiving the file; no action is required to receive or download files.
2. Brand Your Wallpaper
Because a lot of people use the platform to share content, it presents an ideal opportunity for businesses to showcase their products and/or services. Brands like Vimeo, Nike, and Netflix have tried it by branding their download pages. So, when a recipient is downloading files using your link, your advert will be displayed in the background.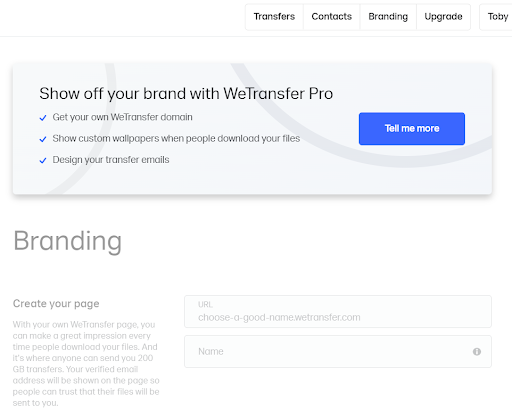 Note:
However, that this feature is only available for WeTransfer Pro users.
3. Instant File Upload
When uploading files, no matter the size, they are uploaded instantly. You do not have to wait for the number of minutes that are proportional to the file size. For instance, with traditional tools, you will have to wait for hours before you can attach a file as large as 10GB. WeTransfer attached files instantly so you can send them to collaborators, suppliers, publishers, or just anyone.
What is WeTransfer Pro login and How Does it Work?
WeTransfer Pro login is a paid account for creative professionals and people who want to enjoy the additional features that the paid version offers. It is dedicated to creative businesses as it allows them to collaborate with team members and send content to clients for review or approval.
It has two types of payment methods: an annual subscription and a monthly one.
You can also renew your account in two ways. First, the service can renew automatically, which is a default setting. Second, you can renew manually at the end of the subscription term.
The monthly plan costs $12/month for people outside Europe and €12/month (VAT inclusive) for people within Europe. This plan is the same as the annual plan; the only difference is that you are paying monthly, not annually.
The annual plan costs $120/year for people outside Europe and €120/year (VAT inclusive) for people within Europe. So, rather than pay a total of $144 at the end of 12 months, wouldn't you rather pay $120?
Obviously, the annual plan is cheaper than the monthly plan. But if you just want to check out the features of WeTransfer Pro, you can pay for one month and then cancel your subscription by the end of the month.
By default, your account is set to renew the subscription plan automatically. But you can disable it if you do not want your subscription to automatically roll over into the new billing cycle.
If you are wondering what currency the company will charge you in when signing up for a WeTransfer Pro account, then here's what you need to know:
People outside Europe
Anyone outside Europe will be charged in USD.
One year costs 120 USD
One month costs 12 USD and you can cancel at any time
People Inside Europe
Anyone within Europe will be charged in Euro.
One year costs 120 EUR
One month costs 12 EUR if you prefer the monthly subscription.
Value Added Tax (VAT)
In addition to the subscription costs, if your business is within Europe, you qualify for a tax discount. When signing up, ensure you enter your company's VAT number and WeTransfer will adjust your subscription charges based on the tax you will pay in your country.
Note:
If the prices are not in your local currency, your credit card issuer may charge an additional exchange fee.
How Does a Business Benefit from WeTransfer?
Creative businesses can use WeTransfer Pro to step up their game.
The package offers free access to two tools: Collect and Paste.
The tools are completely independent and work differently. This implies that you will have three different subscriptions and if you need any assistance, the platform will redirect you to the special teams assigned to each product.
Features of Paste Pro
Before creative ideas are finalized and approved, you and your team will meet with the client to ensure that everyone understands the concept.
Paste serves as a platform for collaborative presentation. You can create beautiful pitches and mockups with the tool.
Features of Collect Pro
Collect helps users to save all their ideas in a single place. You can create and share mood boards and references with team members.
The Collect app for Android and iOS users allows them to get inspired wherever they go.
It is important to note the following:
Unlocking Collect requires the use of an Android or iOS device
Unlocking Paste requires the use of a desktop computer
Subscribing to WeTransfer Pro gives you access to only one Collect and one Paste account.
The advantages of using WeTransfer for your business are as follows:
1. You can Share Creative Content with Clients Using Portals
"Portals" is a page where you can review content with your team. When you create a review, a portal for clients pops up. It contains a static URL that you can share with clients. The client does not require a WeTransfer account to access the link.
Adding a password to your review can prevent your client from sharing the link with other people. You can also send a direct invitation to the client. When the client has completed an action (download, view, or star), you will be notified via email. This will enable you to know whether your work has been approved or not.
2. Custom Page and URL
Your page is a personalized version of WeTransfer. It gives you access to a subdomain for your brand. The subdomain is a custom page where your clients are directed to download the files you send to them.On the other hand, when clients send files to you through your URL, they will remain active for 4 weeks. This is a lot of time compared to the seven days that the free platform offers. This gives you ample time to download the files.
Note:
Your URL is public and can be shared with an unlimited number of people. Anyone with the link can access your page and view your email address. WeTransfer displays your email address so that when you transfer a file, the recipient will know it is from you.
However, your email address visibility via your custom URL does not mean that anyone can access your personal details or uploads. Additionally, search engines like Google will not index your personal page, so nobody can find your page in search engine results.
In addition to a custom URL, you can brand your personal page by uploading up to 5 backgrounds of your choosing. You can also add an avatar and email background to spruce up things a bit.
When setting up your custom page, you need to claim your subdomain (your personal URL). If you skipped this part when you were setting up your WeTransfer Pro account, you can click on the Branding settings to claim yours.
WeTransfer says you can claim the URL just once. However, if you make a mistake when entering any of your details, the support team will assist you in changing them. You can create a ticket, telling the team what the new URL should be.
Sometimes, when you want to claim a URL, you will discover that the name has already been taken. This should not discourage you; it happens on other platforms too.
However, you can always find out whether your intended URL name is available or not by typing https://yourpagename.wetransfer.com in your browser. If it directs you to someone's personal page, then the URL already exists.
3. Send Transfers to Multiple Recipients at Once
WeTransfer Pro enables businesses to transfer files to about 50 persons at once, whereas the free service only allows three recipients. This implies that you can directly send content to 50 people and you will get an email when each person downloads the content.
Each email is sent separately, so it won't look as if you copied 50 people in one email. Rather, it works like BCC in your email. The other recipients won't see the email address of the others. Additionally, if you use the "send a link" option, you will be able to share content with as many people as you desire.
4. 1 TB Storage
A WeTransfer Pro account gives users access to 1TB storage space. This allows you to share very large files for a long time. When you log in to your WeTransfer Pro account, you can see all your uploads by viewing the sent panel.
You can see the transfers you have done and how much storage you have used. By default, the transfers are sorted according to date, starting with the latest uploads. You can also sort them by recipients.
You do not need to keep scrolling through all your transfers to find a specific file. You can perform a simple search using the search keyword and hitting the enter/return key. If your uploads are approaching a total of 1TB, you will need to delete the older files to make space for new ones.
When you click on a file name in a transfer, it will display the following:
The type of transfer: link or email
The number of downloads
The recipients' email addresses for email transfers
Number of items in the transfer and the size of the transfer
Names of each file in the transfer
The message attached to the transfer
The link for direct download
The transfer's expiry date, which can be edited
5. Choose when Transfers will Expire
You do not have to worry about when your transfer will be deleted as WeTransfer Pro allows you to choose an expiry date. You can even choose to keep the transfers indefinitely. By default, transfers made from WeTransfer pro expires after 1 month. You can automatically change this for all your uploads or choose a different expiry date for different uploads.
You can change the default expiry date through your sent panel by clicking on the three dots in the transfer interface, then select how long you want the files to remain online.
To manually change the file's expiry date after uploading it, click on "Transfers" at the upper side of your WeTransfer Pro dashboard then look for the file you want to change. You will see the expiry date of the file beneath the file name.
Click on the name; it will open a small calendar where you can make the necessary date changes. Ensure you inform the recipient about the change because they may have seen the former expiry date when downloading the file.
6. Send and Receive Files of Over 200GB in Each Transfer
WeTransfer Pro allows users to transfer files of about 200GB in a single transfer. This is 100 times what the free service offers. As a result, businesses can transfer extra-large digital content to clients and team members.
Additionally, you can enable people to send you files of over 200 GB when they visit your profile. They just need the web address of your profile to get this done. When they visit your profile, they can see your verified email address. This will let them know that their files were sent directly to you.
7. Protect Transfer with a Password
You can add another layer of security to your files by adding a password. This feature is optional but it prevents random people from accessing your transfers except they have the password. Hence, your creative ideas and pitches are safe. You can also add two-factor authentication to your account so no one can hack it.
8. Work on the Go
WeTransfer Pro now has an app that allows you to collaborate with team members from anywhere. You can receive and send transfers from your mobile phone. And if you sent a file in error, you can delete it from the app.
To use the app, you must have a WeTransfer account. The current version of the app is a 1.0 release. It is only available to iOS users. However, the company is promising to add more features soon.
What Are the Drawbacks of Using WeTransfer?
Despite being a very convenient tool, it is not without shortcomings. The following are drawbacks of WeTransfer:
1. Content Disappears After Some Time
If you are using WeTransfer Pro or WeTransfer Basic, your uploaded content is volatile. This means that it can disappear from the server after some time. And any file deleted from the server cannot be retrieved. As a result, you and your recipients must download files as soon as they are received. Otherwise, you will have to upload the files again and then send them.
Note: that with the WeTransfer Pro, you can change the expiry date of files. But if you fail to change it, you shouldn't be surprised if you can't find some of your old files.
2. No Security Confidential Files
Although the transfers are between you and the recipients, note that the attachments are uploaded on the internet. Therefore, if someone hacks your email or that of your recipient, they will gain access to your files. Although the possibility is minute, it is still something you should consider.
What Are Some Alternatives to WeTransfer?
Some alternatives to WeTransfer are:
1. Dropbox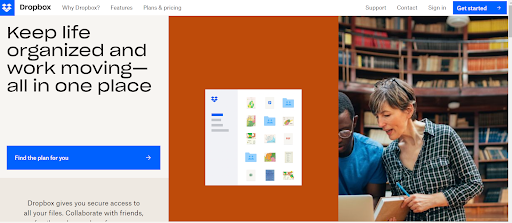 This is the most purposeful and effective alternative to WeTransfer, and it has been popular for quite some time. Although it offers storage space of 2GB for free, its paid versions, Premium and Plus) have more features than WeTransfer. You can extend the 2GB to 2 or 3TB.
You can access Dropbox via its webpage or desktop software. The service allows you to share files with people using their email addresses. You will receive an email when the file gets to the recipient.
Additionally, if what you want to share is a folder, you simply need to enter the name of the recipients with the right control option of who can view or edit the document or files in the folder.
Key features of Dropbox are:
Key storage
Encryption security
Expansible storage
Remote access
Password authentication
Data backup
File sharing
Available to Android, Mac, Windows, and Linux OS
Share screenshots without actually taking screenshots
File commenting
Edit online Office documents without opening a Microsoft account
Selective sync for more space
Previous version for file recovery
Customizable Dropbox notifications
Easily locate share history
Request files from others
Back up pictures
2. Google Drive

This is probably the best and widely used platform for sharing files. It has a very simple user interface and features that are easy to use. It offers cloud storage that allows users to share content with friends, family members, co-workers, and just anyone.
Google Drive gives users storage space of 15GB for free. You can share files and folders with individuals or a group as well as control who you want to view or edit the content. From using Google docs, spreadsheets, and presentations, Google Drive is a great alternative to WeTransfer.
The features of Google Drive are:
Team collaboration
Sync your files
Save attachments from Google
Work offline
Convert PDF to Doc
Scan documents
Upgradable storage
View different file formats
3. OneDrive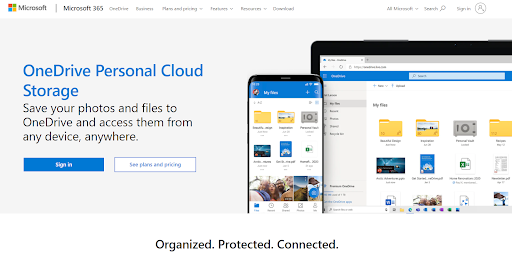 OneDrive is a product of Microsoft. It works like the other cloud-sharing companies. All you need to do is select the files or folders you want to back up, then sync them with online copies and other devices and computers where you have already set up OneDrive.
When you drop files or folders in OneDrive, you can delete them from your device after syncing so you can save space. Keeping them online also saves them from getting lost as someone can access your phone and intentionally or mistakenly delete them.
Furthermore, syncing your files enables you to quickly send a copy to someone. OneDrive will generate a URL that you can use to share the file. You can share as much as 100GB at a go.
The selling point of OneDrive is the fact that it offers storage space of 1TB. However, you need to have a Microsoft 365 account to enjoy that feature. If you do not wish to part with your money, you can use the free account.
Features of OneDrive are:
Upload files up to 100GB
Sync libraries
Collaborate with teams
Visibility controls for security
Store files and access them from anywhere
Scan documents
File backup
Restore deleted files
4. Smash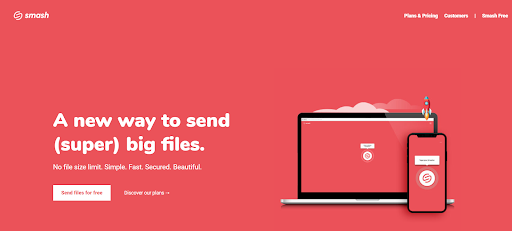 This is another alternative to WeTransfer that is simple to use when sharing large files. So, if you share large files frequently, you should choose Smash. It does not require any registration and it is completely free.
Additionally, there is no limit to the size of files you want to share through Smash. However, the files will only be available for 14 days. Some users see this as a drawback compared to WeTransfer. But you can protect your content by using a password when sharing with other people. This is quite an impressive feature.
Features of Smash are:
Unlimited file size
No need to compress files
Drag and drop
Encryption
Search or filter
Access permission
5. Hightail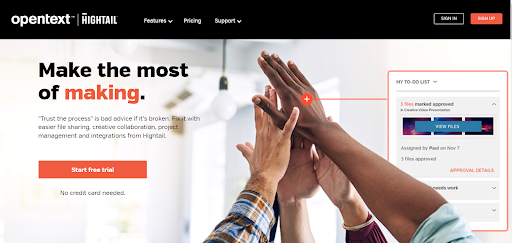 Unlike other platforms, Hightail allows users to share files up to 100MB for free. It also offers 2GB of storage space. The files remain accessible for only 7 days, which is a very short period compared to the other alternatives. The paid version allows you to transfer files up to 25 GB at once as well as unlimited storage.
However, Hightail has a unique selling point that we cannot overlook. It allows users to share files from their computers as well as from other cloud services like Google Drive and Dropbox. This is truly amazing.
Features of Hightail are:
Premium support
Control who accesses the file
One-time sign-on
Add or remove recipients
Faster downloads and uploads
Data encryption
E-signatures
Custom branding
Access from desktop and mobile apps
Secure delivery
Unlimited storage
Conclusion
The simplicity of WeTransfer is unarguably its biggest advantage. In a few steps, people who are not tech-savvy can figure out how the platform works. You can use WeTransfer for free or get an account to have access to additional features.
In this guide, we discussed in detail how to set up the WeTransfer account as well as how to use it. The advantages, drawbacks and alternatives of WeTransfer have also been explained along with how businesses can benefit from using the service.
And if you choose to use WeTransfer, we believe that the things we shared in the guide will help you navigate the platform seamlessly and give you an incredible experience.
Talk to sales consultant
FAQs
How do you send a video on WeTransfer?
WeTransfer allows you to send videos using smartphones and PCs in just a few steps. Here's the process you need to follow:
Step 1: Click here to visit the WeTransfer Website
Step 2: Fill up the details as given below on the screen.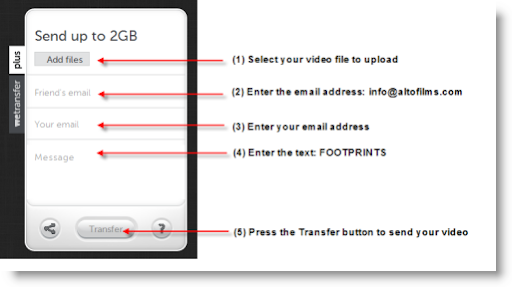 Step 3: Click 'Transfer' to send the video. Once completed, you will get an alert reading "Transfer complete".
Using iPhone/iPad to send your video
Please be informed that if you are using iPhone or iPad to send videos, then you need to download the WeTransfer App from the App Store.
Step1: Follow the link to download the App:
https://apps.apple.com/in/app/wetransfer/id1569379048.
Step 2: Fill up the details as given on the screen.
Step 3: Click 'Transfer' to send the video. Once completed, you will get an alert reading "Transfer complete".
How safe is file transfer via WeTransfer?
Simply put, WeTransfer is one of the safest file transfer utilities available out there. The data privacy and security standards followed by WeTransfer comply with the highest level of personal data protection set by the GDPR (General Data Protection Regulation) and the Dutch UAVG (Uitvoeringswet Algemene Verordening Gegevensbescherming).
Files transferred via WeTransfer are encrypted (TLS while being transmitted and AES-256 while being stored. After the files are safely stored, users can access them only by using the unique links sent to the recipient and sender.
How long are WeTransfer files available?
Going by the standard guidelines, the platform stores the files for a standard period of 30 days. However, if you have an active account, then you can get your files stored for shorter or longer periods, depending on your requirements.
How much does WeTransfer cost?
WeTransfer is available absolutely free of cost and allows users to send files upto 2 GB. Also, there is a paid version of the program available namely WeTransfer Pro, which allows users to transfer up to 200 GB of files at once. The monthly plan for WeTransfer Pro is available at $12/User while the annual plan is $120/User.
Does WeTransfer have an app?
Yes, WeTransfer App is available for both Android and iOS platforms. For Android,
https://play.google.com/store/apps/details?id=com.wetransfer.app.filetransfer.link.smash.sendfiles&hl=en_IN&gl=US, and For iOS: https://apps.apple.com/in/app/wetransfer/id1569379048.
Can you use WeTransfer from iPhone?
Yes, you can. You just need to download the WeTransfer App from the App Store and send files directly from your iPhone.
Can someone else upload to my WeTransfer?
Yes. You just need to provide your WeTransfer Account's link to the person who wants to send you a file, they can easily do it with the help of that link.
How much can you send on WeTransfer?
With the free version, you can send files up to 2 GB whereas the paid version, WeTransfer Pro allows you to send files up to 200 GB at once.
Do I need a WeTransfer account to receive files?
No, you need to create an account to receive files.