Table of Content
QuickBooks Desktop or its hosted version, nearly 85% of the accounting market loves this accounting tool. As per the reports shared by the Accountancy Age, around 78% of accounts personnel, including small and mid-sized businesses, rely on cloud technology like hosted QuickBooks. More than 1.57million subscribers prefer QuickBooks more than other accounting tools.
There are several benefits of using QuickBooks like time tracking, billing, and invoicing allowing corporations to manage their finances. But, where a majority of corporations are happily adopting  cloud technology, CPAs are still preferring QuickBooks with a hosting facility rather than opting for the online version.
This blog focuses on QuickBooks Hosted vs. Online, where we have highlighted some facts that will give you a fair reason for such a preference.
Similarities Between Hosted QuickBooks and Online QuickBooks
There are a few things that are similar between Hosting QuickBooks and online QuickBooks. Such as:
1. Ease of Use
Both of the QuickBooks versions are easy to use. You don't need to be an accountant or hire accountants/ bookkeepers to monitor and work according to the accounts management system.
2. Data Storage in Off-premises
Both hosted and online services work on the off-premises server. Simply put, you can work with QuickBooks on the digital platform without spending on hardware updates and server maintenance. We suggest the hosted QuickBooks option as you can avail of more customization options than the online mode.
3. Backing Up Data Automatically
The data backup facility is offered by both QuickBooks hosting and QBO. However, what matters more is the frequency of the backup. In this case, hosted QuickBooks servers back up the data more frequently than QuickBooks Online.
4. Remote Accessibility
One of the most liked features of both Hosted QuickBooks and QBO is remote accessibility. With either of them, you can access your data anytime, anywhere, and on any device. All you require is a good internet connection.   
5. Cloud-Based Platform
QuickBooks Online and Hosted QuickBooks, both, can be easily integrated with cloud-based accounting applications. When you integrate them, you get all the benefits of the application as well as cloud hosting benefits like automation, remote accessibility, etc.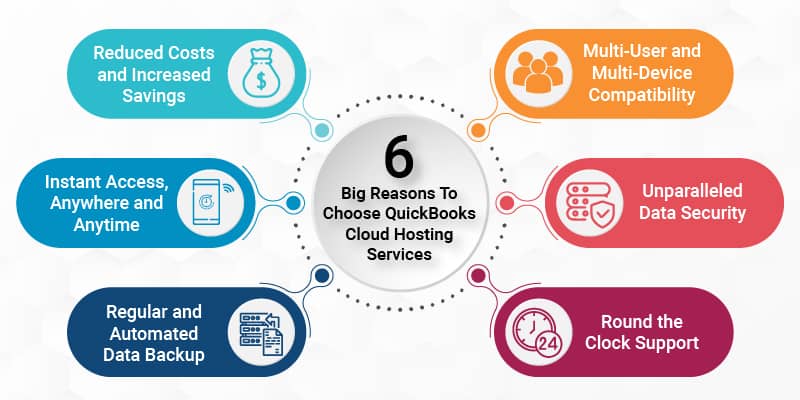 Why CPAs Prefer Hosted QuickBooks Over QuickBooks Online
Even though a few pointers are similar between online QuickBooks and hosted QuickBooks, a higher percentage showcases why CPA's prefer hosted versions over QuickBooks online.
Below are the stark differences representing why hosted QuickBooks is Better for CPAs.
1. Regular Product Updates
When you opt for the Hosted version, the option of controlling your QuickBooks account is in your hands. It is up to you to run the updates or execute them as required. But in the case of QuickBooks Online, the updates automatically take place without offering you a place of intervention.
2. Better Maintenance
Both QuickBooks versions have a similar maintenance structure. However, in QuickBooks Online Intuit looks after the maintenance of websites and an online portal.
In the case of the hosting version, the hosting provider handles:
Associated hardware upgrades

Daily server maintenance

Server repairs
3. Easy to Set up and Use
In the case of Hosted QuickBooks, the provider leases the QuickBooks Desktop edition or installs your license on a dedicated server or off-premise environment. The server is located in a data center. When you want to work on the software, use the remote desktop option and continue with your work. So, you work on the replica of your desktop application!
Relatively, during the QuickBooks Online setup, your QuickBooks Desktop data is copied and transferred to your online account by Intuit. You can use the digital version of QuickBooks with a supported web browser and log into your QuickBooks Online account.
4. Enhanced Features
The Basic features of QuickBooks Online include:
Tracking and sending invoices
Syncing bank accounts
Inventory tracking
But most of the available features are not mobile-supported.
Comparatively, Hosted QuickBooks Desktop offers you advantageous features like:
Remote accessibility
Tracking expenses
Budgeting
Being of a dynamic nature, you do not require to worry about losing industry-specific features or skipping the learning curve.
5. Choice from Different Versions
Unlike the QuickBooks online,  which is an independent version; the QuickBooks Desktop hosting option supports various versions like:
6. Superior Customer Support
The customer service of QuickBooks Online usually remains active from Monday to Friday, that too for a specific duration.
Contrary to it, QuickBooks hosting providers like us provide you round-the-clock customer support, even on holidays and weekends. To give you the ease of quick connectivity, the points of reaching the tech support are:
Email/ Ticket Submission
Phone call
Remote Support
7. Affordable Service Charge
The charges of both the QuickBooks options are dependent on plans and situations. For instance, if you see the hosting option, the price range starts from $33 on a monthly basis and can go up to $75. However, QBO's service plans (generic basis) can start from $20 and go up to $100 a month.
Both the higher values usually include add-ons or additional costs related to multiple company files (QB online).
Comparison Between QuickBooks Hosting and QuickBooks Online
Don't go for what we say to you. See for yourself what hosted QuickBooks features offer you.
| | | |
| --- | --- | --- |
|   Benefit and Features |   QuickBooks Hosting | QuickBooks Online |
| Automatics backup of encrypted data | Yes | Yes |
| Software Installation | Yes | No |
| Updates and Upgrades | Yes | Yes |
| Remote Access | Yes | No |
| Cloud-based application | Yes | Yes |
| Rebuilding and calculating job cost | Yes | No |
| Uptime | 99.99% | – |
| Dedicated Servers | Yes | No |
| Invoicing (in Batches) | Invoicing (in Batches) | No |
| Supported Versions | All Desktop Edition | Only Online Version |
| Multiple device access | Yes | Yes |
| Inventory tracking (multiple) | Yes | No |
| Free Trial | Yes | Yes |
| Industry-Specific Version | Industry-Specific Version | No |
| Interface Utility | Remote Desktop | Web Browser |
| Interface similar to QuickBooks Desktop | Yes | No |
| Access allowed to User numbers | Unlimited | Maybe 30 or less |
| 24 x 7 Tech support | Yes | No |
| Price | $33 | Variable as per company |
It is a fact that cloud QuickBooks software is creating tides in the sea of the accounting market. By 2023, the cloud accounting market will likely touch $4.25 billion.
Conclusion
The above pointers must have given you a clear idea of why CPAs prefer to opt for hosted QuickBooks. The hosted version adds better value to your business and has various features, while the online version stays a little behind the game.
And these are the reasons why accounting professionals opt for hosted QuickBooks. So, what's your plan now? Try QuickBooks Hosting with our 7-day free trial plan and be a part of the smart accounts planning and executing group!
FAQs
QuickBooks Online vs. QuickBooks Hosting. What's Better?
QuickBooks Hosting is the better option for all the CPAs and SBMs as it offers more appropriate business solutions than the Online version.