Table of Contents:
With the arrival of trends in accounting, the world has witnessed many changes. Although these variations were not as exceptional as what was expected by most of us, the alteration in the technological world has started a new futuristic world. We are currently seeing an upsurge in technological advancements and automated functions.   
If we look at the accounting future, technology might still be a few inches away from the accounting world for now but has started to function/adapt as regards to these new advancements. We are rapidly moving toward the trends in the accounting industry with advanced technical fixes like cloud-based subscriptions, on-premise solutions, Software-as-a-Service (SaaS), and more.
Top 15+ Predicted Accounting Trends for Businesses
1. Cloud-Based Accounting
Accounting services and the cloud have become inseparable and profitable for most businesses. With the accounting systems hosted on the cloud, multiple companies have gained the ease of accessing their digitally hosted system anytime and from any place. 
The data access is not just limited to the 'Read Only' versions but also gives you the benefit of sharing, editing, copying, and working on the files collaboratively. With this, you can also track:
To explain more, we studied a report published by Sage  "The Practice of Now," where 67% of accountants approved the introduction of cloud-based solutions that have streamlined and enhanced their work quality.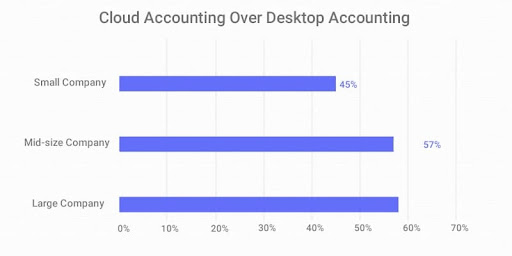 In another "Accounting Today" report, 58% of organizations recognized and accepted the benefits of shifting to the cloud and are using cloud-based accounting systems.
You can already see the supported answer in the form of the above graph depicting the accounting trends effect.
2. Offshore Staffing in Addition to Remote Work Setup
Before the pandemic of Covid-19 hit the world, Forbes revealed in their studies that more than 34% of American citizens worked remotely. Yet, statistics by GetApp showed that the remote worker figure increased drastically to 40% weekly. Once these figures were estimated, it stood at nearly 4.7 million in and after the pandemic.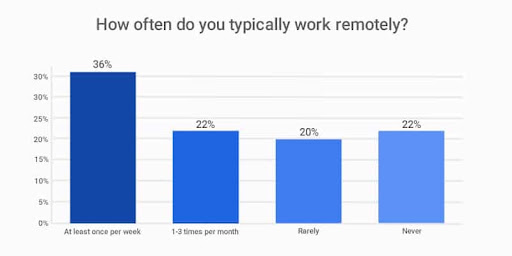 Additionally, the 2% unemployment rate for accountants in the second quarter further increased to 3.5%, as highlighted by Reports from the US Bureau of Labor Statistics (BLS).
 2.1 Unemployment Statistic
Even though the requirement is high, the unemployment rates are even higher:
i. Auditing clerks – 1.5%
ii. Accounting clerks – 1.5%
iii. Accountants – 1.4%
iv. Bookkeeping clerks – 1.5%
v. Financial analysts – 3.2%
vi. Auditors – 1.4%
vii. Financial managers – 1.5%
viii. Posting and billing clerks – 2.0%
Due to this, top enterprises are missing out on talented accountants. Finance professionals have started adapting more advanced technologies to overcome the shortfalls mentioned above and maximize their firm's profit. 
And the classic example that comes to the surface is a remote work setting. Most of us will agree that embracing remote working with digitized accounting trends and techniques has cut most of the expenditure. Plus, it has also optimized the entire progression.  
Moreover, additional offshore staff directly deployed in remote working settings is hiking up the growth trajectory. Implementing this trend has aided many accounting firms in reaping more benefits than the traditional working structure. So, based on analysis and forecast, this setup trend will expand and flourish in the years to come.
3. Accounting Software
The accounting trends of 2023 are going through fierce competition. With most of the software migrated to the cloud platform, the demand for hosted solutions has hit the roof. 
More and more businesses are opting for cloud-based accounting software solutions for their business requisition due to:
Friendlier functions

Advanced features

Robust solutions

Remote Accessibility
Accountancy Age put forward their perceptions that from 2019 to 2024- accounting trends in the form of solutions would take over the finance industry. The forecasted CAGR growth rate will also jump around 8.5%. The amount, when projected numerically, stands to be approximately $ 19.59 billion.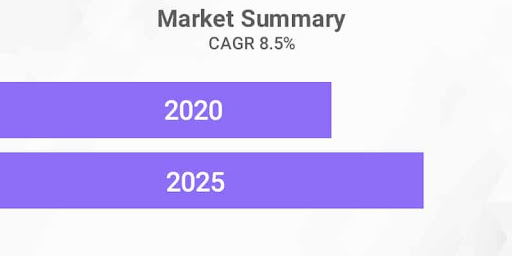 Below is a list of some software that will become trending accounting software in the future:  
QuickBooks

Xero

FreeAgent

Sage Business 

Gusto
4. Big Data
Big data has always been preferable for financial experts and accountants whenever it comes to resorting to crucial financial task completion.
This technological form is imperative in transforming vital internal data sets into dynamic, secure data analysis. Also, it has been a constant aid in converting those evaluations into actionable insights. With the gradual but constant advancement in this finance industry, the probability of big data becoming more proactive is pushing future accounting trends.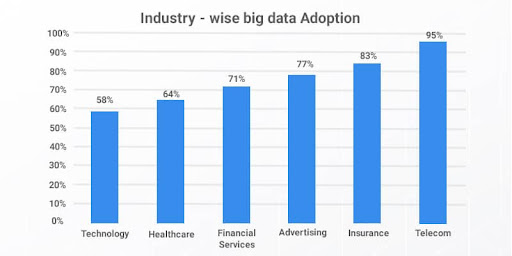 5. Data Analytics
Compared to the opportunities and promises made by Big Data for financial experts and accountants, the forecasts are even regarding data analytics. 
On inculcating data analytics to your accounting firm, you can avail advantages in the form of:
Identifying operational inefficiencies

Developing accurate forecasting models

Collecting valuable financial insights

Tracking clients progress
For segregating various service values from contenders and making judgments based on accurate decision-making, most industries will be embracing data analytics by 2023. So, the demand for data specialists will increase in the coming years.
The reason for this statement depends on two factors:
Interpreting complex datasets

Capturing valuable insights
Also, conventions and guidelines for responsible data gain will see a radical upgrade by 2023.
6. Automated Accounting Process
Automation has drastically changed most industries, and accounting is no exception. The entire management process has become automated with comprehensive solutions. It has helped reduce errors and eliminate confusion.  
Since the process relies on computers and servers, businesses tend to fall into money scams and compromised security attacks. This in turn, raises the demand for in-house auditors to check the financial inputs and data accuracy. This way, there is no need for the in-house personnel to worry about getting replaced by bots.
7. Outsourcing the Accounting Functions
Outsourcing is the new way of making advancements in the accounting business. It helps the firms to focus more on their core work rather than worrying over petty issues. Thus, when tedious work gets outsourced by professionals or firms, they enjoy more concentration on values such as profitability and resources.  
It was predicted that by 2020, the Finance and Accounting Outsourcing market in the United States will be worth $17.1 Billion. By 2027, the market for outsourcing financial and accounting functions is expected to grow to $56.6 billion.
Outsourcing services have now become the fastest-growing sector in the accounting world because of this. Firms opt more for outsourcing accounting services since they enjoy more proficient and reliable professional services. 
8. Blockchain
Blockchain has drastically improved the conditions of accounting sectors. It has reduced the reconciling and ledger maintenance expense. Also, professionals have a clear and transparent view of their firm's obligations and available resources via blockchain technology.
No wonder a significant number of wallets are created to transact in the blockchain. According to Statista 2020 data, firms in the US spend nearly $1.1 billion on blockchain technologies. That is why it's one of the most popular accounting industry trends.
9. Value-Based Pricing
Every accounting firm should know the impact of high prices on their business, which can make them go out of business. On the other hand, value-based pricing has a strategic approach that increases revenues by adjusting the price to the anticipated amount instead of its historical amount.
A value-based pricing model is the best to provide you and your clients with price certainty. Other than the monetary advantage, it helps accountants efficiently use their time to make them bring more productivity to the table.
10. Advisory Services
Business owners should keep themselves updated on trends and the latest technologies. With a CAGR of 5.8% between 2021 and 2030, the worldwide financial advisory services market is expected to expand from its 2020 valuation of $79.4 billion to a full $135.6 billion. They should use Advisory Services that can give advice like how to use new technologies to optimize the accounting business or leverage most of the existing accounting software. 
The insights provided by Advisory Services are mostly accurate. Adopting this will not eliminate human efforts and will increase revenues by a good percentage.  
11. Evolution of the Accountant Role
In the future, more transactional work will become automated for accounting, and accountants will increasingly be seen as leaders and decision-makers. More and more, accountants must rely on soft skills, leadership, and other traits associated with emotional intelligence. These skills, paired with training to leverage insight from data analysis and financial expertise, will make for successful careers in the future.
12. Data Security
Data breaches are becoming common, and finance departments are one of the top targets. The violations can lead to identity theft, or the stealing of personal data and credit card information, and spoofing, which is when an email is disguised to appear to come from a known and trustworthy source. 
Statistics provided by Surf Shark indicate that the United States is the country that is subject to the greatest number of data breaches. In the year 2021, there were 212.4 million users affected (compared to 174.4 million in 2020).
Training in recognizing potentially harmful emails and spotting attacks will continue to be crucial for accounting teams, who are already skilled in looking at the details and spotting anomalies. The accounting team can share the importance and become cybersecurity champions for your organization.
13. Accountants Upskilling
Accounting officials are viewing the global economy of 2023 negatively, as per the AICPA Economic Outlook Survey data. The predictions indicate that for the upcoming 12 months, only 18% of the companies will experience a fruitful year.
However, financial management accountants and economic advisory groups are expected to play a crucial role this quarter. Accountants will transition into "value partners" or "chief future officers" who help the company owners, CFO's and CEOs set sail in the right direction for their respective organizations.
This will require CPAs and accountants to have diverse skills to keep up with the changing accounting landscape. To be successful, accountants must utilize technology, understand data analytics, and communicate effectively with clients, as transactional work will become automated. They also need to be well-versed in business concepts to provide valuable insights to their clients. 
Other findings suggest investing in digital transformation will accelerate due to the upcoming economy. Require finance professionals to "upskill and reskill themselves with digital transformation." 
In particular, he said, the Future of Finance group identified agility as a top skill finance professionals need to cultivate to keep up with the accelerating pace of business.
14. TAX
Tax professionals will focus on the Inflation Reduction Act, P.L. 117-169, which will bring significant changes in 2023.
The new alternative minimum tax of 15% applies to businesses with an adjusted financial statement income of over $1 billion on average over the past three years, as established by the Inflation Reduction Act.
15. Technology
Many accounting companies' day-to-day duties are strain by declining workforce capacity and increased offerings. In 2023, automation will still be widely used to relieve the strain caused by excessive workloads.
Companies will be able to make up for the capacity issues we have as an industry now and in the future as the scope and complexity of our work increases. The trend toward remote work and education is here to stay and will likely become the norm soon. This means that more and more tools that facilitate a continuous hybrid work style will find their way into the accounting industry. 
16. Forensic Accounting
In 2023, establishing and maintaining effective internal controls will be of paramount importance for businesses, necessitating the services of forensic accountants. 
According to IBISWorld statistics, around 33,524 employees are currently employed in forensic accounting services in 2023 alone. The forensic accounting services is estimated to see a growth of 2% in 2023.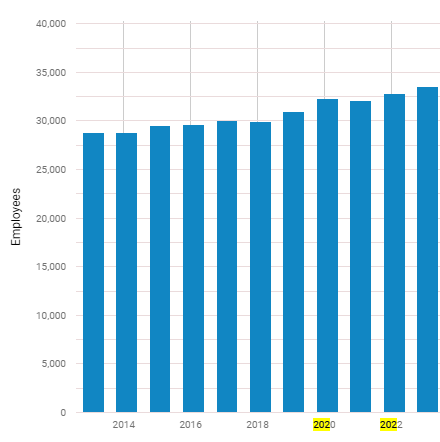 With fewer people to keep things running smoothly, many companies would find it difficult to comply with regulations if a recession were to hit. The demand for forensic accountants with expertise in internal controls as they relate to compliance is expecting to reach an all-time high as we go in 2023.
White-collar crimes such as identity theft, employment fraud, and insurance fraud are rising. So forensic experts can help businesses look into digital solutions to combat these threats.
17. Accounting Education
Many schools and accounting departments will change in the coming year as they prepare to implement the new CPA Exam and regulations in 2024.
The redesigned examination will seek to incorporate current technologies and how they are used in practice into the curriculum. Educators will continue to prepare students for the ever-evolving nature of the professional environment.
18. Role of Artificial Intelligence (AI)
AI can and will significantly impact the finance and accounting sector in the upcoming days. Companies are using AI and robotic process automation (RPA) to automate mundane, highly repeatable tasks, allowing accountants to focus their time on higher-impact and higher-value activities. AI also aids in the analysis of lease contracts to make it easier to capture information quickly on the commencement date, amount to be paid, termination or renewal options and allows the finance professional to spend more time making decisions with the data instead of looking for it.
As per a research, the size of the market for artificial intelligence in accounting is expecting to reach USD 53,893 Million by the year 2030.
Drive Towards Industry Change
Based on the answers of 3000 accountants in a 2019 worldwide survey, a staggering percentage of accountants (around 90%) believe that accounting in the future will enter a cultural shift by the next decade.
Moreover, the effect of such a shift has started to come in light in the form of:
Emerging technologies

Business services

Hiring practices

Work from home practices
Another highlight revealed from the above survey is that more than 82% of accountants will start recruiting new employees from non-traditional backgrounds.
Even with a number as high as 62%, the current respondents believe that the accounting training programs of today won't be enough to catch up to the accounting trends of 2030. If the above facts are intriguing, we have more for you. So, let us look at a few fascinating accounting trends that are forecasted to shape better ventures.
Takeaway!
We hope to see these accounting trends in the coming years. The start of the accounting industry shines brighter in the professional world. The best aspect of these trends is that they are moving slowly but steadily and are bringing a revolution in the field of business.