You already know that QuickBooks is the most popular accounting software, its various benefits, and the additional perks of hosting it on the cloud server. But have you ever wondered how QuickBooks works on the cloud?
Here, we are going to explain it thoroughly, so that the question of how never comes to your mind. But first, let me tell you the proper meaning of the term if you do not already know it.
QuickBooks gets ahead capably with features for simplifying and automating business accounting operations. QuickBooks on the cloud simply means that rather than installing QuickBooks Desktop on your own computer. But it is hosted on secure servers, allowing you to view your financial information from anywhere. The servers are hosted over the web. It allows users to securely and easily access the applications and files through RDP (Remote Desktop Protocol) on any internet-enabled device. Now, let us move to the how.
How Does Cloud QuickBooks Hosting Work?
In earlier days, QuickBooks install on the local systems and was accessible from there only. With Hosting came the option of accessing the software from any remote location using any internet-enabled device.
Here, we will be explaining the process of how QuickBooks Desktop works on the cloud. As it relies on the Remote Desktop Protocol (RDP), all the features and functionalities remain similar to the QuickBooks Desktop version.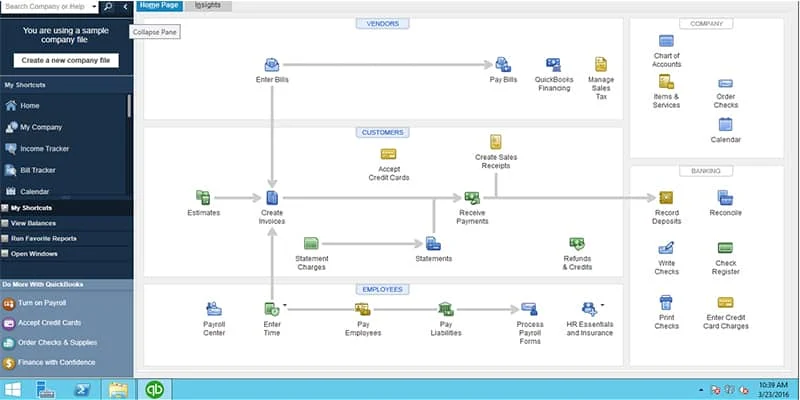 The third-party cloud servers host the QuickBooks software, which can be any of the versions of your choice: QuickBooks Pro, Premier, Enterprise, or POS.
A small amount is required to be paid initially to the service provider, which depends upon the number of users, resources of the servers, and other factors.

The login credentials are required for accessing QuickBooks.

QuickBooks can either be accessed using a remote access

tool or a web browser on the local system.

The internet needs to be stable and fast enough so that multiple users can access QuickBooks in real-time using any of the internet-enabled devices.
When you finish the prerequisites, you need to proceed with the next steps to access the QuickBooks Software on the Cloud.
After you have installed the QuickBooks Software, there will be a shortcut to Remote Desktop Connection available on the desktop.
See this video to understand how QuickBooks Desktop works on the Cloud: 
4 Steps to Work on Cloud QuickBooks
Working with QuickBooks in the cloud involves a few key steps to get you up and running efficiently. Here are four essential steps to work on Cloud QuickBooks:
Step 1: Open Remote Desktop Connection
You have to double-click on the Remote Desktop Connection desktop shortcut.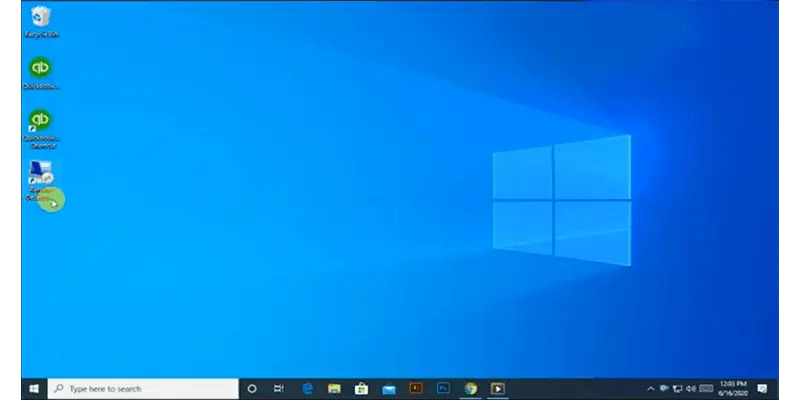 Step 2: Enter the Login Credentials
A dialog box would open with the username automatically provided by the setup wizard, you just need to add your password and click OK (ticking the Remember me checkbox makes it easy for you to access QuickBooks in the cloud server on the go). After the connection process, you will be directed to the cloud server.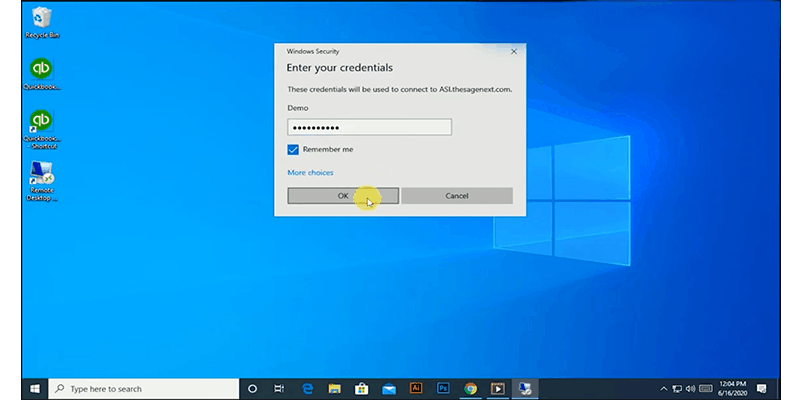 Step 3: Open QuickBooks
Now, you have to open QuickBooks by double-clicking on the shortcut icon of it available on the desktop.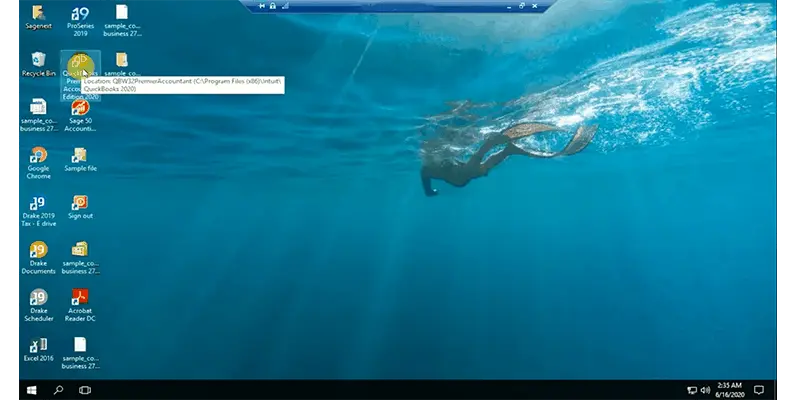 Step 4: Open or Restore an Existing Company File
Click on Open or restore an existing company file (you can create a new company file from here as well), then select the file and click Open.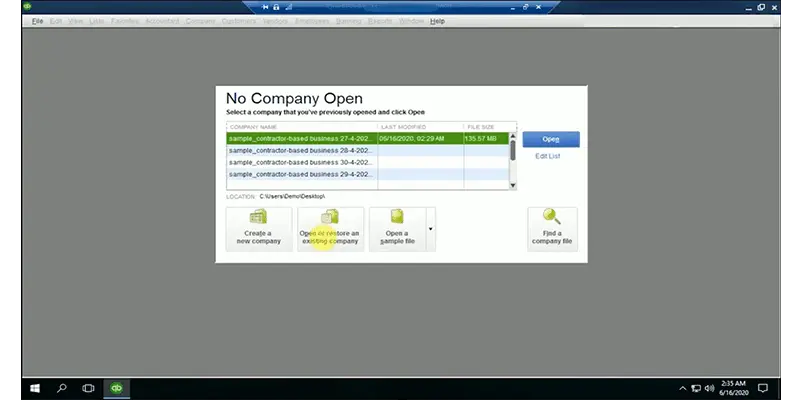 That is all, now you can easily work on the accounting files available for your business with a hosted QuickBooks Desktop in the Cloud. The shortcuts to the company file are always kept on the desktop for your convenience. You can minimize or close QuickBooks Desktop while running the remote connection.
When you need to close the remote connection, you can sign out from the desktop shortcut, or you can click the start button and log off from there. This is how QuickBooks Desktop works on the Cloud.
However, there's a similar version, QuickBooks Online that has been developed by Intuit (the developer of QuickBooks), which runs from any device without installing the application through the internet connection. Let us see that in a brief manner.
How QuickBooks Online Works?
QuickBooks online has tried to replicate most of the features of QuickBooks Desktop, if compared between QuickBooks Cloud vs QuickBooks Desktop, but still has a lot of limitations when compared to it. 
The benefits of Cloud computing, such as multiple device compatibility, remote accessibility, and some of the other functions are available in this version. But the user interface and features of QuickBooks Online is quite different from the desktop version. So, the users who are accustomed to the functioning and use of QuickBooks Desktop would not really prefer QuickBooks Online. But it will opt for the QuickBooks Desktop  hosting service.
 Some of the drawbacks while working on QuickBooks Online:
No full-fledged accuracy with slower processing.

Issues do come up while importing or exporting from the desktop version.

The workflow get hamper with the internet down as it runs inside the browser.

A significant amount of manual input is required while making changes from the desktop version to the online version and vice-versa.

Maximum of 5 users allowed at a time.

Limited tech support.

Restriction of QuickBooks add-ons compatibility.
Further, we will be discussing the benefits of QuickBooks Cloud Hosting.
6 Benefits of QuickBooks Cloud Hosting
There are numerous benefits of Hosting QuickBooks Desktop on the cloud that you will realize once you start to use QuickBooks in the cloud. But some of the main benefits are:
Access data remotely, and stay productive even when you're on the move.

Say goodbye to manual updates, as QuickBooks Cloud Hosting automatically updates your software.

Rest easy knowing that data is safe and secure with top-tier security measures in place.

Collaborate effortlessly with the team through multi-user collaboration.

Enjoy the freedom to access your QuickBooks data from any device .

Stay away from paying monthly charges as in QuickBooks Online.
Choosing the Right Hosting Partner for QuickBooks Desktop
Well, the most important part is to choose the right hosting partner for QuickBooks cloud hosting. Now we will be discussing the factors for choosing the right hosting partner for you!!! Only after comparing these factors you should go ahead and host QuickBooks with a respected provider:
Technical Factors
Performance: Ensure the hosting partner's infrastructure can handle QuickBooks' resource demands, opt for a provider with high-speed servers and sufficient processing power.
Integration: Check if the hosting partner supports other applications or services you might need to integrate with QuickBooks, such as CRM software, e-commerce platforms, or tax software.
Scalability: As your business expands, it's essential to choose a suitable hosting partner that can easily adjust your resources to meet your changing needs.
This will help ensure that the Application remains accessible and performs optimally for your growing customer base.
Infrastructure & Accessibility
Consider the below factors for better Accessibility to your QuickBooks cloud hosting.
Data Center Location: Consider the location of the hosting provider's data centers. Data center proximity can affect latency and access speed, so choose one that is geographically convenient for your business.
User Access and Permissions: Check for the options for managing user access and permissions in QuickBooks, as it's crucial to control access to specific parts of the software and data.
Uptime & Reliability: Choose a hosting partner with a strong track record of uptime and reliability. They should have redundancy and failover systems in place to minimize downtime.
Data Security &  24/7 Monitoring
You know how important and private is your QuickBooks Cloud data, hence you need to be sure about securing and protecting your data from data thefts and leaks, even when you are sleeping. Ensure that the provider is taking care of these factors:
Advanced Networking Options: Using an advanced network that ensures reliable and secure transmission of data and offers adequate network security alongside a dedicated VPN ( virtual private network)  reduces data security risks.
Data Backup and Recovery: Choosing a cloud service provider with advanced data backup and recovery options is crucial for data safety and easy recovery in case of an accidental loss.
Compliance and Regulations: Depending on your industry, you may have specific compliance requirements and standards to fulfill (e.g., HIPAA, PCI, SSAE 18). Ensure the hosting partner can meet these requirements, if applicable.
Multilevel Security Features: Ensure the providers have multilevel security features installed at their data centers, like antivirus, two-factor authentication, data encryption, and 24/7 monitoring.
Customer Support & QuickBooks Cloud Desktop Pricing
Costs and Pricing Model: Compare the pricing structure of different hosting providers. Some may charge based on the number of users or the resources you use, while others may offer flat-rate pricing. Make sure you understand the pricing model and how it aligns with your budget.
Reviews and References: Read reviews and seek references from other businesses that have used the hosting partner. This can provide valuable insights into their reputation and service quality.
Years Of Experience: Try to find companies that have been hosting Tax software for many years. Surely they might have experience in this sector.
Exit Strategy: Consider how you can migrate away from the hosting provider if needed. Ensure they offer data export tools and support to make the transition as smooth as possible.
Conclusion
Hosting QuickBooks will not only help to flourish your business but it will also guarantee the latest advancements to your service. With the use of QuickBooks on the Cloud, you will understand that there is no requirement of in-depth knowledge of accounting to understand the working of QuickBooks. This is one of the reasons that the software has ruled the accounting industry among the SMBs for decades.
FAQs
Can you use QuickBooks in the cloud?
Yes, The QuickBooks Desktop version comes with a cloud hosting option,  just find the right hosting provider and you are set.
How do I put QuickBooks Desktop on the cloud?
If you want to host QuickBooks desktop on the cloud, you will have to do it using an Intuit authorized hosting provider.
Is QuickBooks on Cloud the same as QuickBooks Online?
QuickBooks On Cloud or QuickBooks Desktop on cloud, is a more traditional accounting software that you can download and install on your computer and host it to cloud using RDP from a third-party hosting provider, while QuickBooks Online is cloud-based accounting software that you can access through the internet.
Can QuickBooks run from the cloud?
Yes, QuickBooks Desktop can also run from the cloud by hosting it on the cloud through an authorized hosting Provider.