Do you know the most exciting part about working on cloud-based platforms? It's that feeling of relaxation you get when you know everything is automatic and you don't have to worry about a single thing related to updates or anything. Tired of the conventional on-premise desktop-based applications, Sage recently announced the addition of a cloud-based platform that is supposed to handle software updates and monitoring. This new technology, Sage Advisor will eliminate the manual caretaking of Sage Products. It will also help businesses improve and, aim for a better tomorrow.    
The following blog is all about Sage Advisor so that after reading it, you're sure of what it is and what difference it will make in your existing business. Let's start! 
What Is Sage Advisor?
Sage Advisor, a sage products of The Sage Group plc, is a cloud-based solution specifically designed to address modern business problems. It aims for a broad list of clients such as Sage ERP and CRM customers. While many users already got their hands on it, others will get it soon. By the time Sage Advisor becomes fully available, it will be a total hit among businesses.  
The functionality provided by Sage Advisor works in a way where it monitors your systems and provides a series of various software upgrades, after which you can choose and install an application accordingly. It points out the services you're not using currently and makes suggestions for the same. This tool has every application installed on its dashboard, so you don't have to find the applications on alien websites. 
Sage Advisor is born with two purposes:
It acts as a personal guide to all the Sage users, using the system optimally by rightfully using existing products' features. 

By introducing it to your business, you will certainly improve your existing conditions by using the recommended platforms you're not using at that moment. 
To put it compactly, it makes you use every bit of your ERP system's power by optimally using existing products and the latest services it provides. Sage conducts an entire information collection activity by collecting information and storing it in the cloud. Analysis programs then interpret these pieces of information and get them transformed into product recommendations through the help of Sage Advisor tools and dashboards.  
Features of Sage Advisor 
Sage Advisor is a product that smartly handles every business problem through its advanced features. You enjoy a series of benefits while using this product.
Here, we'll discuss some outstanding features which are mentioned below:
Constant Reminders & Notifications
One of the most impressive feature is its instant alerts and notifications. It notifies you whenever the latest services are available so that you can call your reseller and get it installed. Along with this, it also reports the problems with your systems, new updates, and features. It notifies you when the issues with your system are fixed. It even tells you the number of inventory that can benefit you in the long run through its Inventory Advisor.   
When the fiscal year ends, there are a lot of responsibilities other than the usual processes. In such a hectic schedule, closing the subsidiary ledgers might be forgotten. It is where Sage Advisor comes to the rescue by reminding you to wind up your subsidiary ledgers before your EoY Processing.
Suggests Useful Products 
Sage Advisor is true to its name as it lets you know the products you're missing on. If there is a new feature you're unaware of, which might be beneficial for your business. Then,  Sage Advisor's advanced technologies will help deliver the message to you. It would let you know so that you can install or set up a new feature and enjoy its benefits. 
Time-Saving     
It is a time-saving application as it automates the updates. Besides, it also constantly reminds you of various features that might prove to be beneficial for your business. Hence, you no longer need to track updates or new features in the markets. It will save your business time, and you can invest that time into something that needs to be worked upon.  
Refines Business Quality 
Adopting Sage Advisor refines your business's overall qualities. As mentioned above in the blog, two purposes are to improve the existing conditions of your business and give you a refined business insight. Once adopted, it can bring business stability and improvement. 
What's New in Sage Advisor Update in 2023?
Sage Advisor Update is again a product of Sage, formerly known as Sage Auto Update. It is held responsible for keeping Sage products up-to-date hence it knows the products installed in your systems, so the update suggestions are provided accordingly. After installing it, an additional windows service keeps running while you work on your systems. Manual interference can cause fluctuations in the already running program, so it adds a service that controls the background and keeps running automatically.  
It is a new feature that's just similar to the Windows Update. Most of the Sage Products already have it installed, while others will be getting it soon in the next releases.  
Configuring Sage Advisor Update 
The installation of Sage Advisor Update unlocks the feature of automatically receiving notifications of updates that are available. It is generally advised to install the application on your workstation or a system owned by the person who decides the right time to update software. There are a few steps to master configuring Sage Advisor Update to make it alert you whenever updates are available, the steps are:
      1. Go to your system tray and click on the Sage Advisor Update.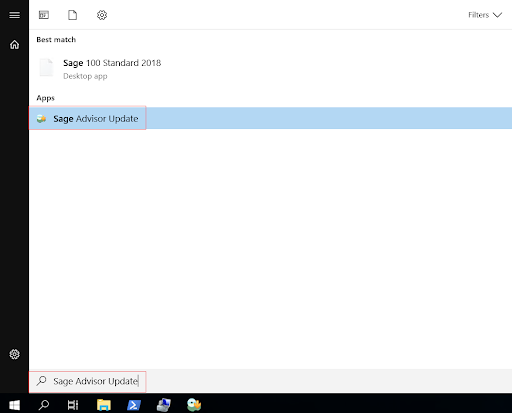 2. Click Configuration on the Navigation Pane.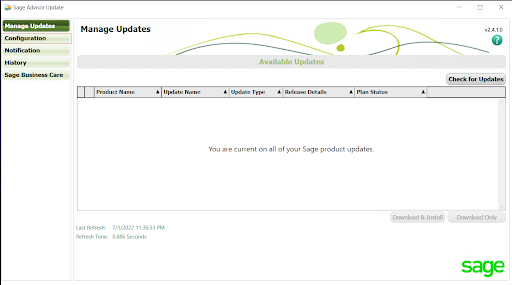 3. Go to the Update tab, and then click on the Update Settings (You will have to set two things)
Select the location in the server where you want to download the updates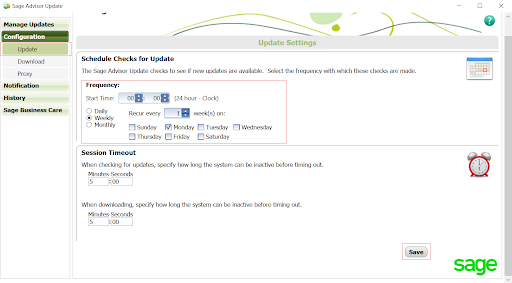 Period inactivity specification is necessary before the program stops connecting with Sage products. You can specify that under Session Timeout.
      4. Click on Download and then go to Download Settings:  
Select the location in the server where you want to download the updates.

In

Download Action

, Specify if the Sage Advisor Update should notify you or not when new updates are downloaded.
      5. Click on Notifications> Notification Setup> enter the SMTP settings of your email exchange server.  
How to Disable Sage Advisor Update?
Are you also frustrated with Sage Advisor Updates' popping up and freezing when you're working? If yes, then you're at the right spot. We'll discuss the steps to disable Sage Advisor Updates if it bothers you and does not let you work. You can try the steps given below to disable the service:
Go to

Microsoft Windows

, and click

Component Services.

 

Go to

Console Tree

and click on

Services.

In

Services

, go to

Sage Advisor Update.

 

Right Click

on it.

Then go to

Properties

, properties screen will appear. 

 Go to the

General Tab

, and set the startup type to

Disabled.

Click

Stop> Apply> Ok

, and close the Sage Advisor Update.  
Is Sage Advisor Cloud-Based?
YES! Sage Advisor is a cloud-based Sage product that monitors your systems and suggests various updates and upgrades available. Its cloud-based robust technologies help detect the features you're missing and notify you when the downloading is done.
As the it is cloud-based, it is the safest application to use, so it will never infect your systems. It is an affordable platform and several organizations are waiting for Sage Advisor to be released so they too can use it. 
Final Note 
You must know that Sage Advisor is not yet used by every Sage user. Some are using it, while some are eagerly waiting to get it. Nonetheless, it has made such a huge impact that every user wants to enjoy the advanced features. The above blog talks about the advanced nature of Sage Advisor which makes it a big hit even before proper availability. Now is the time to focus on extracting the best out of cloud platforms. The new application is designed to set you free from tensions related to monitoring the systems, updating, notifications, etc. It is also one of the best source to improve your business conditions and get better insights with the help of its robust functionalities. 
Moreover, we will recommend it to every individual who does not like to keep track of updates, make notes of new features, and related activities. But then, who likes it at all? So, it's a solution that suits everyone in today's time.