Table of Contents:
Business outcomes can be hastened with the proper cloud service provider and the correct cloud computing service model they bring to the table. Choosing the optimal Cloud Computing service model might be difficult. The decision would be based on the company's needs as well as an in-depth evaluation of the cloud service's features, cost, security, and reputation.
The internet is filled with cloud service-recommended vendors. One of the biggest fears of all cloud users is choosing a cloud provider that doesn't meet their needs. So here comes the main question – How do you select a trustworthy service provider that can offer the best service for your business? In this article, you will know how to select the appropriate service provider for your business.
Choose a Trustworthy Cloud Service Provider
In the long-term it is important to make sure you pick the right cloud provider as IT systems go external. Despite the large market, several providers are offering a wide range of services. From market giants like Microsoft, Amazon, and Google to smaller niche firms offering customized services, there's something for everyone.
So, how can you pick the best cloud service out of all the options? The answer is a well-defined selection and sourcing procedure that is designed for specific requirements. We've simplified the most important factors into an easy-to-understand list of eight categories to think about.
8 Core Criteria to Choose the Right Cloud Service Provider
For selecting the right cloud service provider you need to look into the business requirements and evaluation criteria. There are some common focus areas to remember when evaluating service providers. 
Core criteria for choosing the best cloud service provider is listed below:
1. Norms & Certifications
The providers that adhere to recognized standards and quality frameworks demonstrate compliance with industry best practices and standards. Criteria won't determine your chosen service provider, but they can help you shortlist potential suppliers.

There are multiple standards and certifications available. 

In general, pay attention to structured processes, effective data management, good knowledge management, and visibility of service status. Ensure you understand how the provider plans to adhere to these standards continuously.
2. Service Roadmap and Technologies
I. Service Roadmap
Having a clear idea regarding the roadmap of your intended cloud service provider's service development is important.
You need to ask the following questions:
Is the service roadmap a perfect fit for your company's long-time requirements?

Is the service provider planning to grow over time and continue to innovate its services?

Are they committed to specific technologies or do they upgrade over time?

How is their interoperability supported?
For example, if you want to opt for QuickBooks hosting, you need to confirm if they work on a service roadmap and fulfill their promises of frequent data backup, smooth migration, secured data center, and up-gradation as per industry updates.
II. Technologies
Ensure that your preferred technologies and the cloud platform of your intended service provider align and support your cloud objectives.
Check out some important points you must consider:
Check for cloud services, standards, and architectures to suit your management and workloads preferences. Also, evaluate the necessity of customization and the level of re-coding that you may need to make your workloads fit as per the cloud platform.

Many service providers offer assistance and comprehensive migration services as early as during the planning and evaluation phase. You need to keep a close eye on such areas too.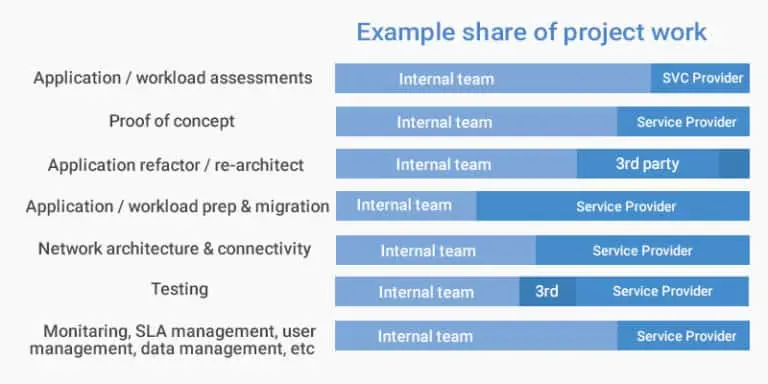 In contrast to the above fact, there are also specific large-scale public cloud providers, who only require additional 3rd party support from you. Public cloud providers provide cloud services to businesses and individuals through third-party suppliers via the internet.
As a basic provision, the service providers can offer you limited support only to fill the skills gaps.
3. Data Governance, Security, and Disaster Recovery
I. Data Security
You need to make sure that your intended Cloud Service Provider has access to various levels of:
System and

Data security

Security governance processes

Maturity of security operations
II. Information Security
The information security controls of a reputable service provider should be risk-based and their platform should support your company's security processes and policies.
Some of the other practices are:
You should look out for these security practices as well.

The physical security controls should be accessible to co-located hardware.

Environmental safeguards should be implemented in the data centers to protect data and equipment from disruptive events.

Customer data integrity should be in place and should be followed as per operational procedures and policies.

Hardware component or application service changes should be authorized and the authorized individual should make the change. 

Comprehensive security infrastructure is necessary to maintain various cloud service types at different levels.
III. Disaster Recovery
The providers should have provisions regarding redundant power and networking in addition to business continuity and documented disaster recovery plan. Check out the disaster recovery processes and look into the ability related to data preservation expectations.
A good example is recovery time objectives. The objectives include vital aspects like:
Integrity checks

Data restoration

Automatic data backup

Data scheduling

Data sources

Criticality of data
The provider should have clear documentation of the service agreement with a clear citation regarding:
Escalation processes

Responsibilities

Roles
Additionally, it's better to understand the risk insurance within the terms and conditions, and even get one if it's not available.
4. Service Dependencies & Partnerships
It is important to understand the relationships vendors have with service providers.
It's a good idea to look at the provider's relationships with important vendors, their accreditation levels, technological capabilities, and staff certifications.

Determining whether service dependencies or partnerships are involved in cloud services is essential.

In some situations, cloud service delivery may require a complicated network of connected components and subcontractors. It's important that the provider discloses these relationships and can back up the primary SLAs specified across the entire service, even components that aren't directly under its control.
Note: According to the Code of Practice, service dependencies and their implications for SLAs, accountability, and responsibility must be explicitly clarified.
5. Contracts and SLAs
If the industry standards are lacking, the reason may be the complexity of cloud agreements. There are some Cloud Providers who deliberately use misleading language that is both unnecessary and complicated.
To clarify and reduce the risk, you should consider these key factors:
Service Delivery

Business Delivery

Data Delivery

Legal Delivery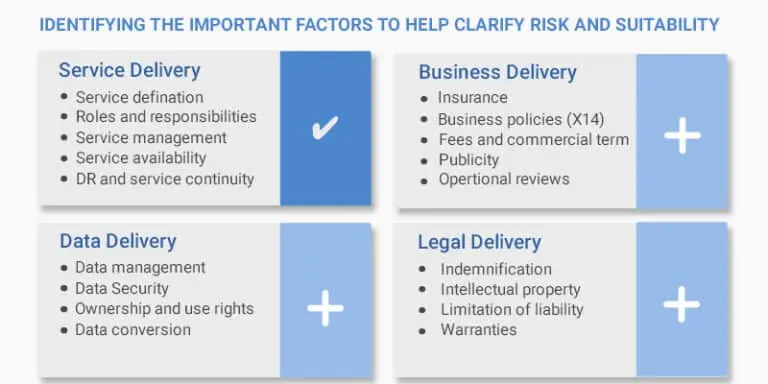 Again, when looking at the SLAs, you should check for the following components:
Caveats and Exclusions

Penalties/incentives and Remediation policies related to service level objectives

Service level objectives
6. Reliability and Performance
You can use follwing methods to measure a service provider's reliability:
Check the service provider's performance against their SLAs over the last 6-12 months.

Evaluate that the monitoring and reporting tools available are sufficient and that they can be implemented into your overall management and reporting systems.

Verify that the provider you choose has a documented and proven process for handling planned and unplanned downtime.

They should have procedures and plans in place that detail how they intend to communicate with users during interruptions, including timeliness, prioritizing, and severity level assessment of issues.

Be aware of the cloud provider's solutions and responsibility limitations when service issues arise.
7. Vendor Lock-in and Exit Planning
I. Vendor Lock-in
Vendor lock-in refers to the situation where a customer using a service or product cannot become a competitor to the service provider. 

This is the result of proprietary technologies, incompatible compared to the ones from the competitors.

When you are about to choose a cloud service provider, do carefully check for vendor lock-ins. 

Addtion to this, stay away from those cloud service providers who rely on unique or customized proprietary components. These can harm your data migration process. 

The negative impact can be direct to the portability process if you would want to shift to any other in-house operations or service providers.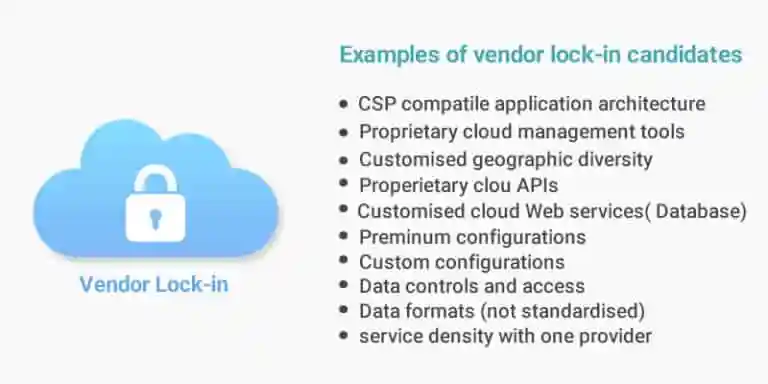 II. Exit Planning
Ensure you have a proper exit strategy from the beginning of your business.
Learning about a CSP's practices before signing a contract is worth it because quitting their service isn't always simple or easy.
Consider how you'll get access to your data, how it'll be stored, and how long the provider will maintain it.
8. Company Profile and Business Health
While analyzing a potential supplier's technical and operational capabilities is important, you must also assess the financial health and profile of the companies you've shortlisted.

It doesn't matter if the cloud service is the most suitable or cost-effective if the provider doesn't have a strong business. Make sure your providers are a suitable long-term match.

Obtain information on the organization's legal history, whether it has been sued in the past or is now being sued, and how it responds to legal challenges.

Check about any planned corporate changes, mergers, and acquisitions and their impact on business goals.

To develop a sense of their market status, look at analyst profiles, internet reviews, and market research.

Also, using social media sites like Linkedln, you may check out the company's performance, management team, and corporate governance.
To Sum Up!
To conclude, it is important to choose a reliable cloud service provider who can customize the cloud services for your specific business needs. Before settling for any cloud services, one should jot down the questions to ask the cloud hosting provider.
Make sure you check the provider's standards and certifications before choosing them. Ensure that they are valid and adhere to various security aspects (HIPAA). You should also read carefully the testimonials and case studies provided by their existing and previous clients.
FAQ's
How can I access my cloud service?
The users should be able to access his/her business data on the cloud from any location at any time by logging into the vendor's customer login page. Additionally, he or she should be able to sign in from any device, including a laptop, tablet, or smartphone.
How does a cloud service provider adapt to the changing needs of a client's business?
Your cloud service requirements are likely to develop in sync with your business activity. As well as learn what extra capacity and cost it provides to ensure you're choosing a good and adaptable cloud service provider. In an ideal situation, a service that loses value per unit as you expand is great.
Is the cloud service secure?
When it comes to storing an enterprise's critical data on the cloud, online safety and security are essential. Many cloud service providers adapt security measures to protect data and prevent unauthorized access. 
Security measures like network firewalls, end-to-encryption, multi-factor authentication, and regular security audits and assessments. However, you should also stay updated on emerging cybersecurity challenges and vulnerabilities to prepare for the breaches and prevent incidents.
What are the key factors distinguishing between the major cloud providers?
When choosing a cloud service provider, it is important to take into account the number of cloud regions and availability zones they offer. This is because a more extensive network of data centers means lower latency, as well as more options for replication and redundancy, and better disaster tolerance in the event of outages. With current advancements in technology have made potential clients to look for best cloud service providers in the market.