The contemporary times are seeing an increased implementation of work-from-home modules and a shift from traditional desktop environments to remote computing. According to a study, the global virtual desktop infrastructure share is likely to surpass 33.42 billion USD by 2028 at 19.4% CAGR Growth. That being said, the concept of replacing conventional physical desktop environments with remotely controlled computing environments is being adopted at large. The inception of desktop virtualization has provided the much-needed framework for the much-awaited desktop computing transition.
Moreover, COVID pandemic accelerated and presented a paradigm shift from in-office operations to remote working. Companies, organizations, and institutions urged their employees to work remotely from home to protect themselves from the Covid-19 virus. Desktop virtualization has been adopted and implemented to improve the security and flexibility of both a remote and in-office workforce.
This passage will cover the various shades associated with desktop virtualization and how to optimize it to its full capability.
What is Desktop Virtualization
Desktop virtualization allows a user to simulate their workstation by creating a software-based mainframe or a virtual workstation that can be accessed easily with the help of a remotely connected device. Furthermore, this technique allows IT organizations to create several operating systems, virtual systems, and applications on a single server.
In simple terms, this technology enables creating and storing multiple user desktop illustrations on a single host in a data center or the cloud.
Remote desktop virtualization has found use in digital workspaces or office setups. VMI workloads run on desktop virtualization servers that typically execute on virtual machines (VMs) on-site or in public cloud data centers.
Since the user devices exist in the form of monitors, keyboards, and computer cursor mouse, a lost or even a stolen device doesn't present many risks to the organization. The majority of the user data and programs exist in the desktop virtualization server, not on client devices.
The unique selling points of this technology happen to be its connectivity and quality which don't hamper a program's efficiency.
The user desktop can be oblivious so that enterprises can allow users to work from almost anywhere with a network connection.
Hence, this software enables desktop laptops, tablets, or smartphones to access their resources without regard to the device or even the operating system employed by the remote user.
At first glance, VDI as a concept might seem like rocket science to some but fret not, we're here to show you the ropes around this.
Benefits and Features of Desktop Virtualization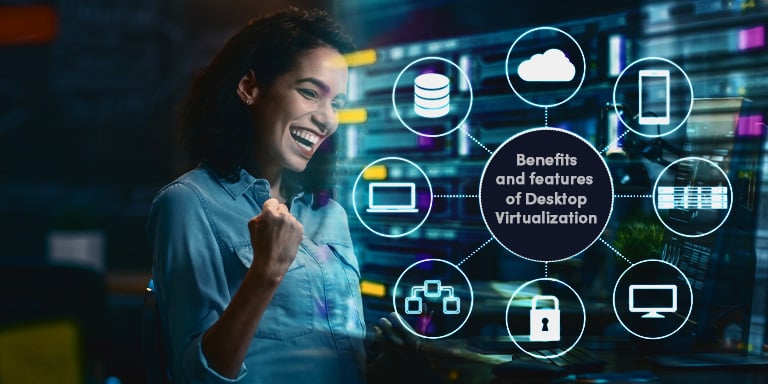 Desktop virtualization makes it easier for IT departments to manage the ever-present computing needs of their employees. Instead of maintaining individual machines that require frequent reconfiguration, updates, or constant software updates. Rather than maintaining individual workstations, a company can maintain a single virtual machine template for individuals having similar jobs or responsibilities. Thus, saving both times and IT resources as a result.
Benefits and features of desktop virtualization are as follows:
1. Cost Savings
Virtualized desktops decrease the Capital expenditure associated with expensive PC purchases and periodic IT servicing. Outsourced operations and a pay-as-you-go model assist manage Operational expenditure by providing clarity into future operations. The use of virtual desktops proves to be more cost-friendly than traditional ways of computing because users invest in processing servers rather than in individual computers.
2. Resource Management
Almost all virtualization desktop resources are concentrated in a data center, and resources are pooled for efficiency. Hence, virtualized machine programs can be easily accessed from nearly any laptop, desktop, tablet, or smartphone, eliminating the need to push operating systems and constant application upgrades to end-user devices. As client devices are primarily used for input and output, IT firms can install less powerful and less expensive client devices.
3. Enables Remote Workforce and Accessibility
Each virtual desktop is hosted on a central server and new user desktops can be set up in minutes and made available to new users right away. Furthermore, IT support resources can focus on virtualization servers' issues rather than the end-user device used to access the virtual desktop. All applications are delivered to clients across a network, and users can access their business applications from nearly any location with internet access.
4. Workstation-like Experience
Devices like laptops, desktops, thin clients PCs, zero clients, tablets, and even some mobile phones find use to access a virtual desktop. Regardless of the device, all individuals can avail workstation-like experiences of the operating system by using virtual desktops. End-users benefit from a feature-rich experience just like
5. Management Made More Accessible
The IT team can easily manage workstations more efficiently thanks to centralized data and application storage. Rolling out OS, application, and fixing bugs is simplified because user profiles are also available centrally.
6. Business Continuity and Rapid Disaster Recovery
Virtual desktops can be provided from a centralized backup in the case of a disaster, ensuring business continuity.
7. Virtual Security
Security is the biggest challenge for all IT professionals year after year. If used appropriately, it offers a number of advantages over traditional desktops, including centralized configuration and management, data storage, and endpoint protection. If not used properly, even physical desktops can have the same issues. Therefore, Administrators can centrally adjust the configuration of an operating system to reduce the risk to all virtual workloads in the event of an attack.
8. Pre-configured Applications
The majority of the virtual machines come with pre-configured applications and software. This makes it easy for the IT team to onboard new entries and even manage the existing ones with ease. This technology's interface makes it simple to remove user profiles or applications when they're no longer necessary.
Types of Desktop Virtualizations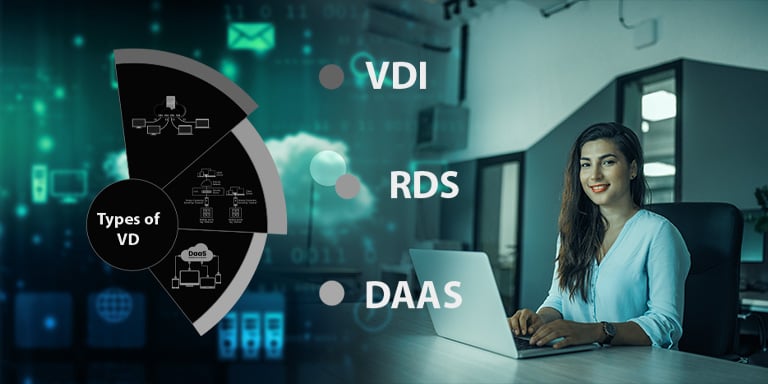 Interested users can opt for three types of desktop virtualization modules suited best for their respective line of business.
Virtual Desktop Infrastructure
VDI mimics the classic desktop computing model. The desk top virtualization server is oversaw in the same way as any other on-premises application server or in the cloud. The initial installment of servers may bear a significant expenditure. Still, it is mitigated by eliminating the need to regularly refresh end-user devices because all end-user computing has been transferred back to the data center.
Remote Desktop Session Host
RDS is frequently put-upon when only a few applications or operations require virtualization. RDS systems offer a higher density of users per VM since only applications are on virtualization.
Desktop-as-a-Service (Daas)
The IT load of supplying virtual desktops is substantially minimize thanks to DaaS, which transfers the responsibility to service providers.
The predictable monthly prices of DaaS providers are acknowledge by companies that aspire to shift their IT expenditures from capital expenditures to operational expenses. To clarify, Desktop virtualization outsources itself to a third party under DaaS, which helps you create and manage virtual desktops.
How Does a Virtualized Desktop Work
There are multiple ways to virtualize a desktop, the two most important types are based on whether the operating system instance is local or remote. In this model, the organization's chosen operating system and applications reside either in the cloud or at a data center.
Easy to use
Virtual desktops are as simple to operate as traditional desktops. Users must log in to their desktop from any device and connect to a remote virtual machine, which displays the desktop on the endpoint device through a network connection. Moreover, using a virtual desktop is just like using a physical desktop in terms of application interaction. When it comes to personalizing and saving data locally on a virtual desktop, users may or may not be able to do so.
Hypervisor and connection broker
The hypervisor and the connection broker are two of the most essential parts of a VDI architecture that can be found in the data center. The hypervisor first separates the physical hardware from the logical operating system, which is on the server in the data center. Hence, this makes it possible for a single physical server to serve multiple virtual desktops. The software that connects each desktop user to their own desktop simulation is called the "connection broker." Besides, this layer verifies every user, no matter what endpoint device they are using.
Virtual Desktop Infrastructure
VDI has traditionally been confederate with a specific PoD of hardware that includes specific compute, network, and storage hardware configured to serve a preset number of virtual desktops in an organization's infrastructure. VDI environments and critical applications can be reliably expected to run under this architecture. Additionally, this isolation reduces the impact of failures on end-users and application workloads.
Workloads
For the data center's other workloads, a PoD (a dedicated number of hosts connected to a committed storage device) was set aside to prevent desktop workload fluctuations from interfering with each other. It is challenging to estimate core workload resource contention from a virtual desktop due to its less predictable use patterns than many other data center workloads.
The operating system is run on a client device using virtualization equipment, and the processing of workloads takes place on the client device itself. Moreover, desktop virtualization users are provided with a virtual machine with a dedicated instance of the Windows operating system (OS) and associated applications arranged in a desktop environment. For security and privacy, all desktops running as virtual machines are completely out of the way from each other.
One question that looms largely amongst the minds of potential users is 'How beneficial does a virtual desktop infrastructure prove to be in the longer run?'
What are the Requirements to Run a Virtual Desktop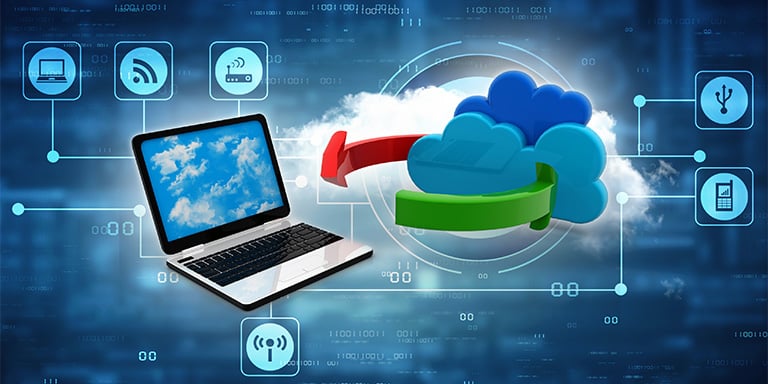 Despite providing various uses, not all virtual machines can be operating devices. When opposed to non-persistent virtual desktops, customized individual virtual desktops have different storage and software update considerations in the lifecycle management process. A system's compatibility with virtualization depends on a few factors.
Internet: Having high-speed internet is essential for efficiently carrying out virtual desktop and remote working operations. A high-performing internet allows employees to optimize their virtual desktop functions to the fullest.
User device: Since the user devices basically exist in the form of a monitor, CPU, keyboard, Ram, and mouse. All user data and programs exist in the desktop virtualization server, not on client devices.
Only the bare necessities are essential for a laptop to operate a virtual computer, and VMI's can run on laptops with just these minimum needs. However, they do not promise the best results. If you want your virtual machine to run without interruption, search for a system with high RAM and a powerful processor.
Alternatives of Desktop Virtualization
Below are some of the best-suited alternatives for all your VMware-based applications.
Citrix DaaS
Citrix Virtual Apps and desktops have established themselves as industry favorites for virtual desktops and apps. Virtual desktops or business apps can be extradited in a contemporary digital workspace from any public, on-premises, or hybrid cloud.
vSpace
vSpace is perfect for organizations who wish to reap the benefits of a virtual environment but lack the funding or IT infrastructure to implement one. It can accommodate up to one hundred users with its solution.
DesktopReady
In order to meet the demands of the present day's workforce, Desktop Ready combines best-in-class technology platforms, products, and a comprehensive range of services to provide a Desktop as a Service (DaaS) solution.
Amazon WorkSpaces
Amazon WorkSpaces offers cloud-based virtual desktops and gives users access to documents and apps. Along with resources needed from any supported device, including Windows and Mac laptops; Chromebooks; iPads; Fire tablets and Android tablets; and Android phones.
Kasm Workspaces
Kasm Workspaces delivers browser, desktop, and application workloads to the browser. Initially designed for the US government, Kasm Workspaces was designed to meet the most stringent cybersecurity standards for safe collaboration and a remote workforce. Still, it is now available to organizations of any size and in any industry.
Stratodesk
Stratodesk is an OS and administration solution for virtual desktop infrastructure (VDI) where a traditional computing device doesn't exist. They also provide a DaaS product for firms without IT infrastructure to host the solution themselves.
Dizzion
Dizzion is best suitable for medium and large-scale organizations. DaaS delivery options from Dizzion include cloud-only, hybrid, and on-premises deployments.
VMware
Vmware virtualization helps take virtualization to the next level as it bestows the users with tremendous hindrance-free performance and an excellent user experience. The Workstation Pro software can also be upgradable to include primary or production support for additional assistance with significant upgrades and technical assistance.
Conclusion
Changing times require organizations to opt for modern solutions in order to sustain and upscale their businesses. One of the unique points regarding desktop virtualization happens to be the flexibility of modules it provides to its customers. This technology offers modules based on an organization's need for the feature of creation and storage of multiple user desktop illustrations on a single moderator. The market continues to grow with numerous VMI solutions, and the majority have something in store for all business sizes. Since the user devices are basically in the form of a monitor, keyboard, and mouse, a lost device presents a decrease in risk to the organization. All user data and programs exist in the desktop virtualization server, not on client devices. This blog gives you insight into the various nuances associated with desktop virtualization.