Table of Contents:
QuickBooks has gained popularity over time due to its smooth accounting capabilities. The online accounting application, available in both on-premises and cloud-based forms, has proved beneficial for small and medium-sized enterprises (SMEs), helping them manage their business payments, pay bills, and discharge other payroll functions. It has been one of the fastest-growing online accounting applications worldwide. QuickBooks offers online and desktop enterprise solutions to help you meet your accounting requirements. Make sure to overview all the features that you perform with QuickBooks Enterprise.
What is QuickBooks Enterprise version 2021(v21)
QuickBooks Enterprise is a powerful software application designed to solve business management problems. Installing QB Enterprise 2021 on your system will make your business more efficient, give insights, and allow you to grow your company.
QB Enterprise offers a variety of functionality, such as:
Generating Purchase Orders

Sending Invoices 

Payment Acceptance

Vendor payments

Payroll Processing
Improved Features of QuickBooks Enterprise 2021 (V21)
With the release of QuickBooks Enterprise Solutions 21.0 (v21), Intuit has updated its QuickBooks product line. QuickBooks Enterprise has received a significant feature upgrade, bringing enhanced functionality to the application.
The new features in QuickBooks Enterprise version 2021 are listed below.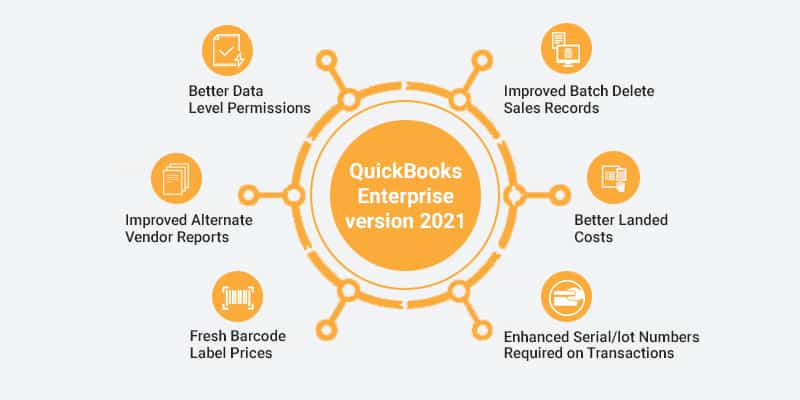 1. Improved Data Level Permissions
This is an important feature upgrade that offers greater confidentiality and more granular security. 
It offers customized user access for viewing, editing, or deleting particular customer or vendor information from a group.

It further limits users' defined accessibility to specific information to improve data secrecy.

Administrators can now create several roles with limited access for avoiding the need to assign or enforce responsibilities manually.

The private records and related financial information are accessed only by the users with appropriate authorization permissions.
It should be noted that the Data Level Permissions functionality is scheduled only for the customers having the Platinum and Diamond subscriptions of the QuickBooks Desktop Enterprise 21.0 (or v21), during the initial release.
Note: Data Level Permissions functionality is scheduled only for the customers having the Platinum and Diamond subscriptions of the QuickBooks Desktop Enterprise Solutions 21.0 (or v21) during the initial release.
2. Improved Batch Delete Sales Records
This feature will help businesses effectively manage client files. Before this update, the accountants were able to void or delete the invoices, bills, and checks in batches.
The Batch Delete feature is only accessible in

QuickBooks Enterprise's Accountant

Version.  

Hence, it recommends exercising great caution and carefully analyzing its unintentional consequences on the impacted data before using Batch Delete Sales Records.

The Batch Delete functionality can access the Batch Delete/Void Transactions option available under the Enterprise Accountant.
3. Better Landing Costs
It was released with  version 20.0 of the QB Desktop Enterprise, which allows users to allocate shipping, freight, and other related charges to an item's price.
The latest release gives users more flexibility and control over their calculations and divisions of landed costs.

While setting up the feature, you can select any Other Current Assets or Cost of Goods Sold as the account type to capture the landed cost charges.

QuickBooks users now have better freedom and control over their sensitive information, as they can print bills, including or excluding the landed cost information.
You can access it by selecting the Landed Cost option available in the Advanced Inventory Settings of the Company Preferences, under Items & Inventory of Preferences, under the Edit option of the File menu.
4. Improved Alternate Vendor Reports
The feature creates an information center with vendors' contact and pricing information, which lets users make more informed purchasing choices.  It helps in creating a purchase order that automatically includes vendor information. Version 21 enhances the user experience by adding the Alternate Vendor column under specific reports.
To access the feature of Alternate Vendor Reports:
Go to the Menu Bar 

Select 'Reports>Inventory> Inventory Stock Status by Item', or Inventory Valuation Summary, respectively. 
Further, to include the 'Alternate Vendor column', users need to choose the 'Customize Report'

option and then scroll to Select the column on the

'Display tab'.
5. New Barcode Label Prices
This feature brings transparency as far as pricing visibility is concerned.
QB Enterprise lets you automatically include the sales prices, besides Item Name and description, on printed barcode labels.

Giving principal pricing details on each inventory item to your customers offers an enhanced shopping experience to them, thereby helping you attain greater customer satisfaction.
6. Enhanced Serial/lot Numbers Required for Transactions
This feature mandates you to enter a serial or lot number before saving a transaction, helping you keep your inventory organized. 
Set the preference for global inventory:
Selecting the 'Edit' option from the 'Menu Bar'. 
Next, select 'Preferences, Inventory, and Serial/Lot Numbers,' respectively. 
Finally, choose the 'Default Setting' to enable 'Serial/Lot Numbers' requirements.
To mandate it for an Individual Inventory Item:
Firstly, elect 'Lists' from the 'Menu Bar' and go to 'Item Lists'. 
Next, select the 'Item' and right-click to 'Edit'.
Now, choose the 'Serial or Lot Numbers' option on the right side, and click on 'Select' to make it 'Mandatory'.
With all the improvements mentioned above, the QuickBooks Enterprise version 2021 (v21) brings greater freedom, flexibility, control, and transparency for both businesses and their clients. 
Why Should you Choose QuickBooks Enterprise Version 2021?
QuickBooks Enterprise solution version 2021(v21) provides the ideal all-in-one solution for businesses that plan to expand their operations soon.
You can find a list of reasons below why you should choose the QuickBooks Enterprise version 2021:
1. Grow Your Business
If you are trying to establish your business in the coming years, you have to be proactive in your approach and seek out the best solutions that can help your business.
2. No Need for an ERP
QuickBooks Enterprise (v21) provides all the accounting features that a growing business needs, including invoicing, payroll, payments, and receipts, so an ERP (Enterprise Resource Planning) is unnecessary. You will also get advanced features like inventory, reporting, and sales.
3. Integrate Applications
QB Enterprise version 2021 offers integration with several third-party applications covering diverse functions. Meanwhile, you don't have to look for other options.
4. Unlimited Support
Whether you have a dedicated IT team or not, only experts can solve some challenges.  We offer exclusive round-the-clock support regarding all your IT issues.
5. Specific Industry Solution
With QB Enterprise v(21), you can get specific industry solutions such as-
Small to medium-sized businesses (SMB)

Non- profitable Organizations

Accountants

Professional Services
A growing business needs to identify the key features of its type of industry.
QuickBooks Desktop Enterprise Solutions 23.0 (v23)
Intuit, as usual in mid-September, has announced the release of QuickBooks 23.0. The QuickBooks Accountant Leader, Ted Callahan, said that all the products of QuickBooks 2023 will be made available on the 6th September 2022 with salient and advanced features. 
Moreover, in 2023, there will be four novice and robust features in the QuickBooks Desktop Enterprise— new cash flow hub, improved banking connectivity, enhanced track vehicle mileage, and reports optimization. With this the accounting community can leverage these products to grow their business. 
Expert Opinion!
Latest and Improved Features of QuickBooks Enterprise 21.0 will leverage the accountants for sending Invoices, Accepting Payment and processing payroll with ease of use.
If you are satisfied with the software and want to purchase it from the best solution provider, feel free to contact us. We are an Intuit authorized QuickBooks Solutions Provider and are dedicated to selling genuine Intuit products. You can also avail the expert consultations on which Intuit versions fit best your business needs.
FAQ's
Does the 2021 Version (V21) of QuickBooks have Improved Features?
QuickBooks 2021 will have several key new features and enhancements designed to improve time management and productivity.  
Is it Necessary to Upgrade to QuickBooks 2021?
It depends on the requirement of your business but by not upgrading you will be missing out on many improved features.
How Frequently Should QuickBooks be Updated?
QuickBooks is excellent accounting software that has a few add-on services that are updated every three years.
What is the Latest Version of QuickBooks Enterprise?
The latest version of QuickBooks, as announced by Intuit, is QuickBooks 23.0 (v23), which will be made available on 6th September 2022.