In the upcoming sections, we will discuss the numerous intricacies of  being certified as a QuickBooks ProAdvisor. Moreover, we try to cover the training, certification exam, and other aspects of the QuickBooks accounting and certification process. In addition to providing training resources, we will cover all of the many functions that a QuickBooks ProAdvisor is responsible for. Let's commence!!
What is a QuickBooks ProAdvisor?
A QuickBooks ProAdvisor is a QuickBooks Certified professional that has been trained, examined and certified by Intuit as an Advisor. That is eligible for guiding the QuickBooks clients to set up and use QuickBooks software. For becoming a certified QuickBooks Advisor, QB Advisors explores the training, application's functions and features, marketing tools as well as support systems from Intuit to impart their knowledge to the users. Hence if you are embracing QuickBooks Application to your business then it is highly recommended that you hire an appropriate Advisor according to your business needs.
Role of QuickBooks ProAdvisor
Having a QuickBooks Certified ProAdvisor in contact with your staff is essential because they're knowledgeable about accounting and bookkeeping services. The important roles and responsibilities are listed below:
Advising software upgrades to keep up with shifting requirements and enhance operational effectiveness.

Assisting customers in learning how to utilize accounting software to monitor corporate finances.

Developing reports for use in accounting, including pay stubs, profit and loss statements, and tax returns.

Educating customers on how to make the most of their time and money with QuickBooks and providing training.

Performing an analysis of the financial accounts to guarantee that they are accurate and comprehensive.

Offering guidance on several aspects of personal finance, including investments, cash flow, debt management, and tax planning.

To ensure that clients are informed of potential expenses before beginning a project, prepare estimates based on the project's costs and time frame.

Putting together corporate tax filings and conducting data analysis to look for any potential problems with the return.

Advising clients on technological improvements will help them run their businesses more efficiently.
What are the Benefits of Becoming a QuickBooks ProAdvisor?
Being a Certified QuickBooks ProAdvisor offers several advantages, including a deep understanding of QuickBooks software, the most popular accounting software. Certified QB ProAdvisor can be listed on the Find-a-ProAdvisor online directory which helps in connecting with potential clients and building a client list.
QuickBooks ProAdvisor Profile helps you to expand your network and establish your authority in the industry.

It also helps in increasing online presence through ProAdvisor accumulating points.

There are numerous marketing materials available through ProAdvisor certification that will help you stand out from the competition and produce leads.

As your firm rises in the rankings, you'll have access to more program features, discounts, product support, and training. 

Certified Pro Advisors can attach their accreditation badge to their website, emails, and business cards.

Gain free or reduced costs for all the Intuit's products and services.

Thorough understanding of the QuickBooks line of products from QuickBooks Online to QuickBooks Desktop.
Note: Being certified in QuickBooks can be incredibly advantageous for a bookkeeper or accountant who provides bookkeeping and payroll services. With more than 80% market share in accounting software for small businesses, you can expect that most of your clients will be using QuickBooks.
How to Become a QuickBooks ProAdvisor?
An aspiring QuickBooks ProAdvisor doesn't need a background in accounting or bookkeeping to become certified.
Note: You can't become a qualified bookkeeper by becoming a QuickBooks ProAdvisor. It merely shows that you have a working grasp of the prevalent QuickBooks software.
1. Sign Up for QuickBooks Online Accountant Program
To become a QuickBooks ProAdvisor, you need to sign up for a QuickBooks Online Accountant Program. QuickBooks Online Accountant is where you can keep track of your ProAdvisor account and certification. Here is how you can Create a free account on QuickBooks Online Accountant:
Open

"quickbooks.intuit.com/accountants"

on your device.

Click the tab named "

ProAdvisor Program"

present in the top navigation menu.

Click the

"Sign-up for free"

button and from there you'll be directed to a basic information page.

Add your

Accounting firm name > Firm ZIP Code > Number of Employees

and Click "

Finish"

.

Now you will be directed to QuickBooks Online Accountant Window.
2. Prepare for QuickBooks ProAdvisor Exam
After registering for a free QuickBooks Online Accountant account, you'll have unlimited access to the course materials, including study guides, webinars, and examinations. 
Follow the instructions given below to prepare for the QB ProAdvisor Exam:
Login to

"QuickBooks Online Accountant".

Go to

"ProAdvisor"

on the left panel and click on the "

Training"

tab. 

Now take "

training"

and

"webinars"

to familiarize and understand the

"QuickBooks Online application".
Note: To pass the exam, you'll need a basic grasp of accounting principles and a comprehension of the QuickBooks Online Accountant system. Both can be covered in the training course but are not required. If you already have this information, you can skip through to the test and get your certification. You can obtain continuing professional education (CPE) credits toward the maintenance of your CPA license while studying for the certification exam.
3. Taking the QuickBooks Certification Exam
QuickBooks Certification exam consists of 80 questions, divided into five portions, and no examination fee is involved. To finish all five portions of the test, it requires a total of three and a half hours.
When you're taking an exam, you have the option to go back and look at your answers before submitting them. To finish each section's test, it requires a single session. To earn your certification, you must successfully answer at least 80% of the questions in each area. 
It's recommended that you open your study guide to the section of the exam you're taking during this open-book exam. It's also a good idea to have QuickBooks open in case you need it.
Follow the steps to take the QuickBooks Certification Exam:
Login to "

QuickBooks Online Accountant".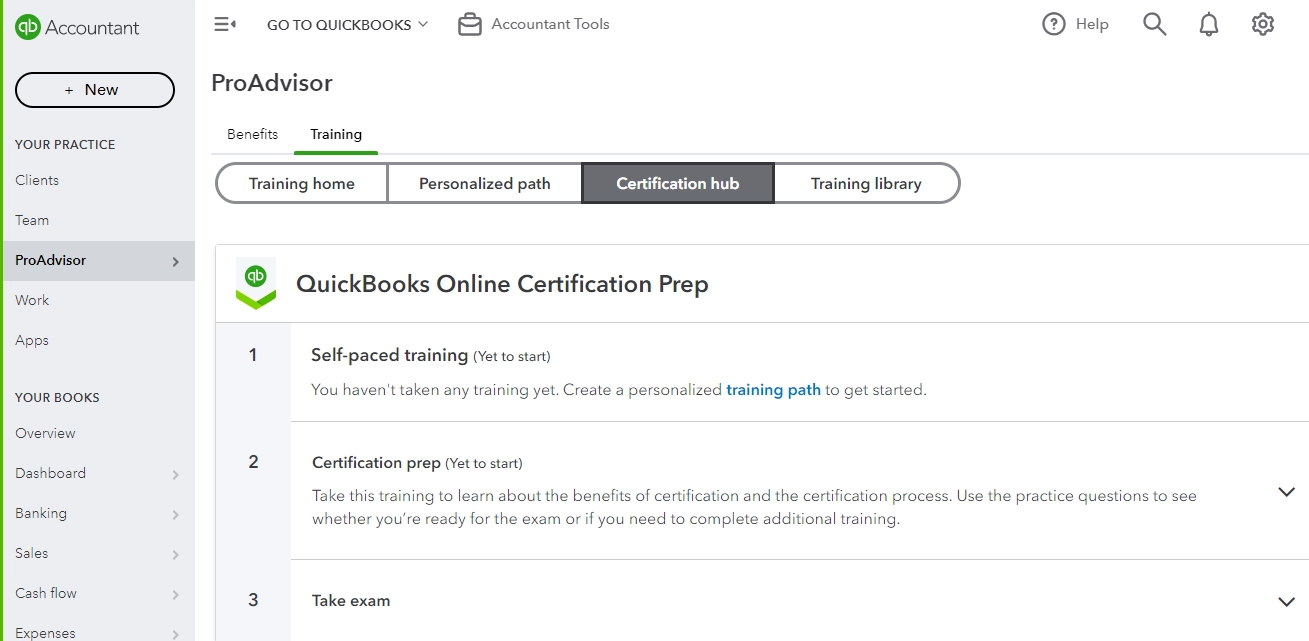 Go to

Advisor > Training > Certification Hub > Take Exam

and Click on the "

Take Exam"

button.

Note: In case you fail QuickBooks Certification exams in 3 attempts, you will be locked out for 60 days. However, after 60 days, you can retake the QuickBooks Certification exam again.
Do I Need to Hire a QuickBooks ProAdvisor?
If you are using QuickBooks and you still need assistance in handling them you will need to hire a QuickBooks ProAdvisor. Because QuickBooks Advisor can assist you to utilize QuickBooks to its fullest capability and improve the knowledge you already possess. Moreover, they can also help you to train your accounting staff, and stay updated on tax laws and new QuickBooks updates. Here's how: 
1. An Expert in QuickBooks Setup
A QuickBooks ProAdvisor helps maintain, optimize, and troubleshoot QuickBooks functions. They fix accounts management concerns and help track a business's cash flow and revenue.
2. Tax Law knowledge
A ProAdvisor stays updated with all the nuances associated with tax, federal modifications, and approaching regulations. They also help in keeping accounting operations on the right path. ProAdvisor also suggests changes to elevate revenues and bring profitable growth.
3. Deliver Advice and Insights
An Advisor also acts as an information hub for strategic business planning, cash flow trends, and providing financial planning. They also integrate accounting trends to enhance a company's accounting system.
4. Preparing Accounting Staff
ProAdvisor is an expert in delivering training and guidance to a company's accounting team. This ensures that the accounting team can better understand accounting and bookkeeping and simplify accounting issues and errors with less effort.
Note: In case you want to handle your own finances without taking any help from QuickBooks Advisors then you can go through some training, tutorials as well as blogs.
How to Find QuickBooks ProAdvisor Near Me?
Before choosing a QuickBooks ProAdvisor, you must know your business requirements, selection of accounting applications as well as your services. Suppose you're able to locate QuickBooks ProAdvisor in your area. In that case, it is necessary to talk to them about the services you're looking for, the operation your company is into, and the challenges you face. Trained QuickBooks ProAdvisor will assist to manage the financial system's complexity and give practical business solutions. It won't be difficult for you to find the ideal solution for both you and your company.
Here are some easy steps to find a QuickBooks ProAdvisor:
1. Start by Entering your location/ZIP code here.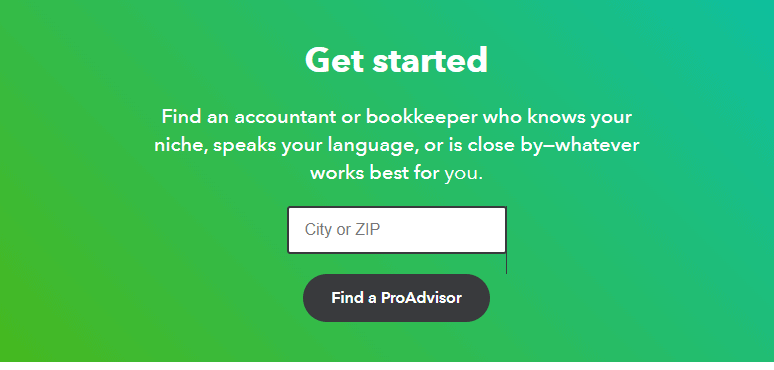 2. Now filter the options by selecting the Service you provide > Industry served > QuickBooks Products you use.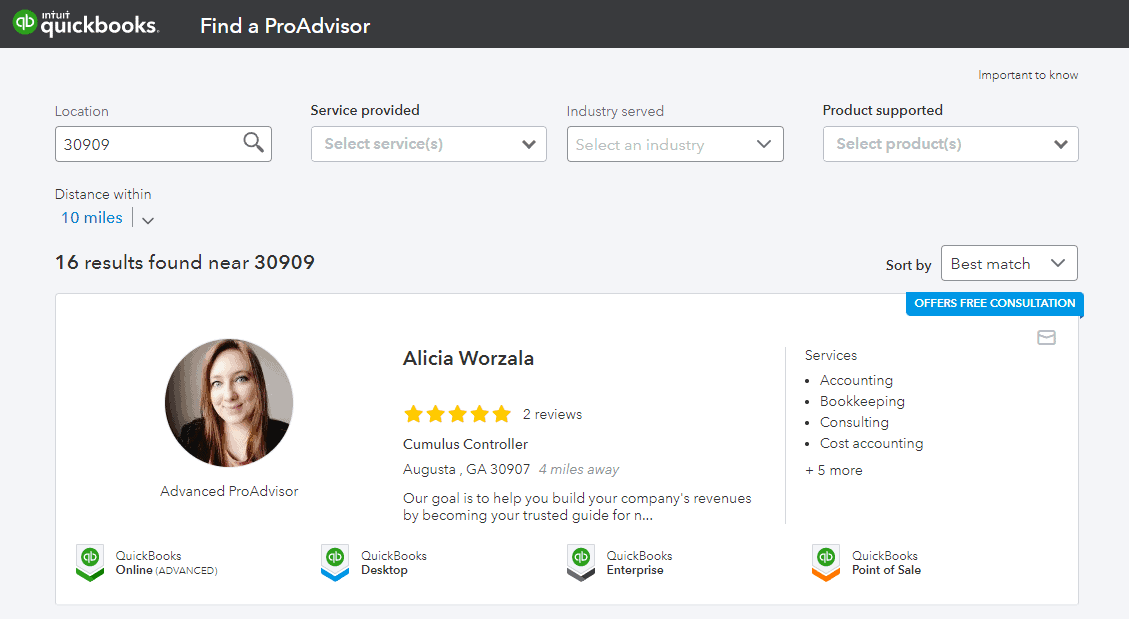 3. This will help you locate a suitable ProAdvisor profile along with their expert areas.
Conclusion
By now, you should be familiar with the basics of QuickBooks certifications.  You would've also learned about the QuickBooks ProAdvisor Certification and what it takes to be a QuickBooks Certified ProAdvisor. There are several advantages to being a QuickBooks Certified ProAdvisor, which we have discussed in this article.
FAQs
How Long does it Take to Become a QuickBooks ProAdvisor
The time it takes to complete a certification ideally depends on the type of certification you're pursuing and your efficiency to learn. However, you can become a certified QuickBooks ProAdvisor in as little as two weeks if you commit just one or two hours each day to the training program that is of 12-16 hours.
If you pass the 80-question exam with a score of at least 80% or higher, you will get your QuickBooks ProAdvisor certification. This certification can also be depicted on a resume and LinkedIn for current or future employers.
Where Can I Find a QuickBooks ProAdvisor
One of the best places to find QuickBooks ProAdvisor is Intuit's search tool, however you can also opt for other sources.  They are: 
LinkedIn

QuickBooks Live

Local SBDC Office

Local Groups

Indeed
Is it Free to Become a QuickBooks ProAdvisor
The QuickBooks Online Accountant account provides users with free access to training, webinars, study materials, and examinations. An examination is also free of cost and consists of 80 questions.
How much do QuickBooks Certified ProAdvisor Make
As of the 12th of January in the year 2023, the average annual salary of a QB ProAdvisor in the United States can range up to $45,044.
What are Requirements for Becoming a QuickBooks ProAdvisor
QuickBooks ProAdvisor certification requires a passing score of at least 80% on the QuickBooks certification exam. 
Can we Give the QuickBooks Certification Exam
Yes, all interested individuals can take the ProAdvisor exam after registering for it and completing all the essential modules. 
How Much Does it Cost to Become a QuickBooks ProAdvisor (QuickBooks ProAdvisor Certification)
Interested users can avail QuickBooks Online ProAdvisor certification for free. Users can get a QuickBooks Online Accountant subscription for free. This account also helps to avail study, training materials, and eventually pass the exam. Interested individual can become QuickBooks Desktop ProAdvisor by paying a membership fee of $799 per year.