Comparing Quicken vs QuickBooks is like comparing tangerines and oranges. QuickBooks and Quicken are some of the best financial management tools many businesses and individuals use today. They were both formerly part of Intuit until Quicken was sold off to H.I.G Capital in 2016. Both tools have certain similar features, however, they also possess some differing features that are unique and designed for different purposes.
QuickBooks is a full-fledged business tool that helps businesses of different sizes, especially small businesses to manage their accounting and financial needs. According to BusinessDit, about 80% of small businesses use QuickBooks for their financial needs.  
On the other hand, Quicken is a simple financial management tool that helps individuals and families manage their budgeting and accounting needs. In 2021, Quicken was the New York Times Wirecutter's best budgeting app for the second time in a row. Your decision to use either Quicken or QuickBooks depends on your personal or business needs. 
But, what are other noteworthy comparing Quicken vs QuickBooks that make them different from each other? Read on to discover more.
What is Quicken?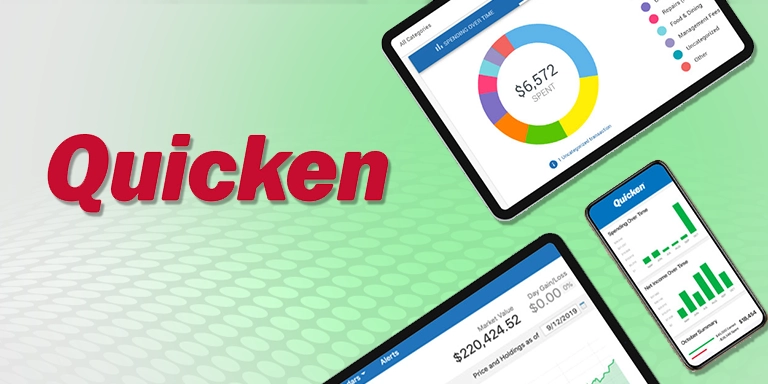 When compared to QuickBooks, Quicken is for families and individuals. It helps you track your personal transactions, account balances, loans, or any personal finances. You can also set budgets and track your investments. 
The Home and Business plan offers important features that allow you to track rental properties, automatically update your financial institution with your contact information, track your investments and portfolio, and create business tax reports. Quicken comes with limited business financial tools but works well for people with rental prop.

Alternative of Quicken
Quicken is one of the simple personal finance management tools out there, however, due to its inability to scale, there have been other alternatives made available. 
Some of others include these:
Mint

: It has a simpler interface and better scalable features.

PocketSmith

: It offers financial tracking and budgeting features.
What is QuickBooks?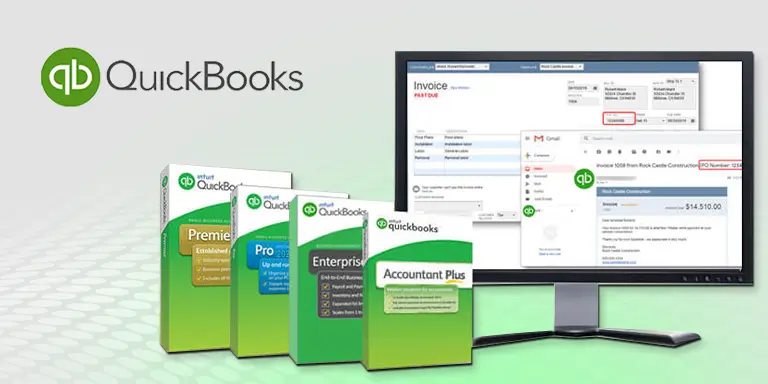 QuickBooks is a financial management tool with complete features for inventory, payroll, accounting, invoicing, budgeting, expense management, and taxation among other important features. QuickBooks has been fondly referred to as the Swiss Army knife of financial management tools. It has all the necessary features for your small business's financial needs. Some features like payment processing and payroll management will require additional fees depending on the price plan you go for.
If you run an SME and you want to track your finances and create reports about your business, QuickBooks is just the best tool for you. QuickBooks also allows you to integrate various third-party apps and 200+ add-ons that improve your financial management needs.

Alternative of QuickBooks
Although QuickBooks comes with all the necessary features a small business needs, the cost is expensive for most small businesses. So, users look for cheaper alternatives that come with similar features.

Some alternatives to QuickBooks are:
Xero

: It has a simple and intuitive design and is mostly popular in countries outside the United States.

FreshBooks: It is mostly used by independent freelancers and sole proprietors.

Quicken vs QuickBooks: Deciding Factors
In the table below, see what factors come into play in this Quicken vs QuickBooks comparison.
Features
Quicken
QuickBooks
Number of Users

This depends on the price plan:

To Simple Start, it allows 1 user and 2 accounting organizations.

For Essentials, it allows 3 users and 2 accounting organizations.

To Plus, it allows 5 users and 2 accounting organizations.

For Advanced, it allows 25 users and 3 accounting organizations.

Amount of accounts allowed

Allows up to 512 accounts per type of account. Types of accounts include loans, business accounting, and savings.

Allows up to 250 accounts for Simple Start, Essentials, and Plus price plans. 

The Advanced plan allows an unlimited number of accounts.

App Integrations

Allows more than 650 apps including Esty, Gusto, and QuickBooks Payroll

Scalability

There is no option to scale with Quicken Business. If you wish to scale, you will need a better alternative.

You can easily scale with QuickBooks by moving to a higher-paying plan as your business grows.

Accounting Tools

Quicken has basic accounting tools like profit and loss reports, accounts receivable, and cash flow tools.

QuickBooks offers better accounting tools such as inventory management, time-tracking, and tax and payroll features. You can manage payments for up to 1,000 contractors at a go and share your financial books with your bookkeeper or accountant.

Price

It has differing price plans based on devices.

Windows and Mac plans: $35.99 – $77.99 per year

Home and Business: $103.99 per year (for Desktop)

It comes with four (4) price plans:

Simple Start: $30/month.

Essentials: $60/month.

Plus: $90/month.

Advanced: $200/month.
Quicken vs QuickBooks: Features
When it comes to features, both tools come with unique usage that meets your needs. 
For QuickBooks, you get a robust financial and accounting management tool that allows you to track your expenses, cash flows, and income from different accounts. You can auto-sort tax transactions into various categories. You can create, export, and send financial reports to your accountant. What is more, QuickBooks allows you to integrate with other third-party tools needed to streamline your financial management needs. 
For Quicken, you get a simple yet intuitive app that comes with enough features in its Home and Business plan. You can easily track your finances, analyze budgets, and calculate taxes. You can also generate profit and loss reports with just a click. 
If you are a sole proprietor or a freelancer, Quicken simple features might be enough for you. However, if you run a small business and wish to scale, QuickBooks has all the features you need to make things run smoothly.
Quicken vs QuickBooks: Cost
QuickBooks allows you to pay monthly or yearly. On the other hand, Quicken doesn't offer monthly payments so you have to pay $35.99 to $77.99 every year or $103.99 a year for its special Home and Business plan. QuickBooks provide free trial with additional features whether Quicken doesn't come with any free trial, but there is a 30-day money-back guarantee attached to the plans.
QuickBooks might be expensive but it comes with just enough features your small business needs to manage and track finances. But if your business involves owning a property, then Quicken's Home and Business plan is suitable for you. With the plan, you can track rental and business expenses and incomes, track rents, and create tax reports for your accountant.
For a higher plan, QuickBooks also allows you to manage payrolls and inventory. This is not possible in Quicken. One key difference between QuickBooks vs Quicken when it comes to cost is how it affects the number of users using the account. QuickBooks allows multiple users based on the plans, while Quicken only allows one user.
Quicken vs QuickBooks: Which is Suits You
QuickBooks is suitable for you if you:
Are a small business owner

Give invoices to customers

Are a church or non-profit

Have a real estate business
Quicken is suitable for you if you:
Need to track your finances

Have a rental property/business

Want to track your retirement assets
Conclusion
To wrap it up, Quicken is best for families, individuals, sole proprietors, and small businesses that do not wish to expand soon. Whereas, QuickBooks is great for small and medium-sized businesses. However, if you are a sole proprietor and freelancer  you can even opt for QuickBooks Self-Employed. Likewise, it is best to understand what your financial and accounting needs are before making a choice.
FAQS
Does Quicken Work for Small Business?
Although Quicken is mainly for personal financial management, it also works for small businesses. It can manage the financial expenses and income of small businesses or sole proprietors with simple bookkeeping needs.

Can I use Quicken instead of QuickBooks?
You can use Quicken instead of QuickBooks for personal finance management, but not for business accounting. Quicken is designed for individual financial tracking, while QuickBooks is tailored for business accounting, handling tasks like payroll and invoicing. Choose the one that suits your specific needs – personal or business.
Who should use QuickBooks vs Quicken?
QuickBooks is for businesses, offering comprehensive accounting tools for tasks like payroll and invoicing. Quicken is for personal finance management, ideal for individuals and households to track income, expenses, and investments. Choose based on your specific needs, business or personal.
Is Quicken and QuickBooks the Same Thing?
No, Quicken and QuickBooks are not the same. Quicken is designed for personal finance management, while QuickBooks is tailored for business accounting and offers features like payroll, invoicing, and inventory management. They serve different purposes and user groups.
Do people still use Quicken?
Yes, people still use Quicken for personal finance management. Despite competition from other financial software and mobile apps, Quicken remains a popular choice for individuals and households looking to track income, expenses, and investments, and manage their personal finances.