With every passing day, accounting firms are becoming more strategic instead of just being limited to the administrative field. They are gradually discovering that cloud computing is not just a secure IT solution for their organizational data. In fact, most of us can relate how the advancement of cloud technologies is helping achieve more simplistic system access with scalable services.
Without a doubt, we can agree that cloud computing is one of the trending aspects of the accounting industry. It offers myriads of benefits, thereby enhancing staff productivity and reducing accounts-related tasks that need to be done repetitively.
Perspective from Accounting Firms
Cloud computing has cropped up as a huge opportunity for the accountants. If you are one, you can understand how this can assist you in leveraging and empowering a completely new segment, which gives a sneak peek into the realistic business insight. In fact, with cloud computing, you can also change (upgrade) the performance of a business.
Now, as accounting personnel, only the adoption of cloud technology is not going to give you your desired profitable result. What you need more is the change and incorporation of working methodologies from the cloud.
It is a fact that the cloud has the potential of changing the standardized working procedure regarding human dependency and administrative procedures. This, in turn, gives the accounting firms the time to utilize and dedicate more towards innovative service provision.
Even a survey from IDG highlighted 38% of tech buyers to be currently under cloud service provision and nearly 51% to be on the path of migration to the clouds.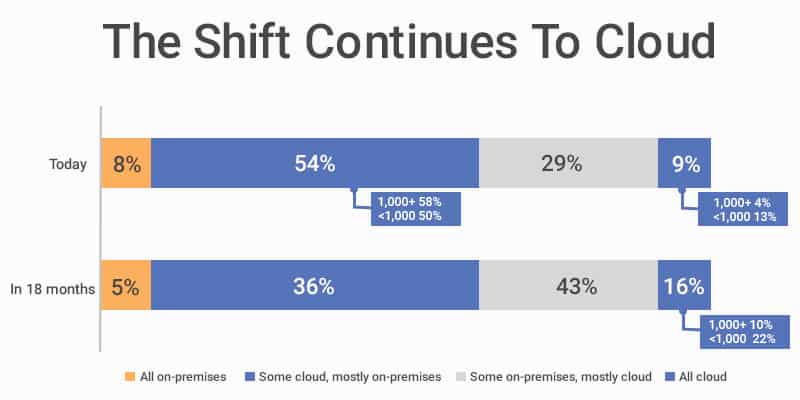 The above image showcases one stark cloud computing adoption curve. As a game-changing element, 32% of accounting firms had shifted and were planning to invest in the cloud project until the pandemic hit across the globe.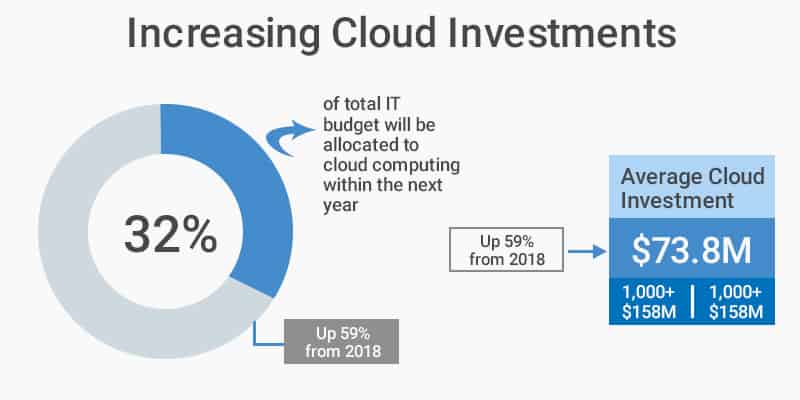 Another survey from Microsoft highlighted the primary advantages of the accounting firms regarding the deployment of cloud computing. The survey output was in the form of a chart showcasing both:
i. Productivity gains
ii. Cost efficiency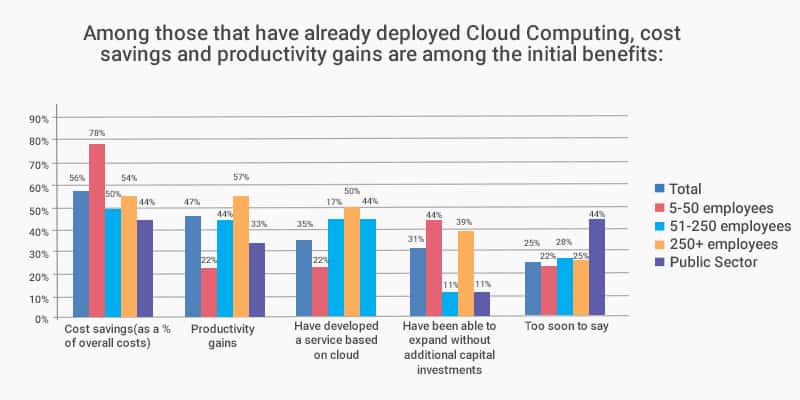 Game-Changing Reasons by Cloud Computing
1. Consolidating Data Security
Call it a necessity or requirement, no organization would like to comprise on the security of their business-critical information or data. However, the stipulation for accounting firms a tad bit higher compared to other originations.
While using cloud computing, accounting firms can leverage their resources and expertise directly to their cloud partners. This step is made to make sure that their data are rigorously protected, both during storage and transit.
Cloud computing advantages for accounting firms include:
Round the clock monitoring to detect security threats
Protect data with end-to-end encryption when data is transferred in the cloud (goes for both the ways)
Disaster recovery processes designed Professionally
Avoid data loss by implementing Redundant backup systems
Frequent cloud to cloud backup management
Implement heavy protection with Industrial strength physical security
2. Enhancing Efficiency and Communication
Even a few years back, customers were content with email or telephonic conversation. However, with each passing day and upgrades in the technological world, clients want a more hands-on approach of problem-solving and query resolution.
With the help of cloud computing you can offer your clients the benefit of interacting with:
Unified communications systems
Up-to-the-minute reporting
Online Dashboards
Switching to cloud-based solutions also gives you benefits like internal communications and processes. Added to this, cloud emails and calendars facilitate seamless interaction and communication between departments and team members. When more people can simultaneously access the same data, your accounting firm can eliminate errors and redundancies when you input data multiple times.
3. Boundation Free Data Access
Anywhere and anytime access is no doubt one of the best features of cloud computing. Where it teaches the basics of team work with the provision of remote hosting and access, it also ensures that the workflow remains smooth irrespective of employees working from different parts of the globe.
QuickBooks hosting platform is a classic example where you don't need to work on your accounting tasks fixated in the same room or the same device. You can collaborate with your colleagues, work on a file, send invoices to your client from anywhere you are currently situated. All that it takes is stable internet connectivity and the assistance from your cloud server.
In the current pandemic situation too, most accounting firms have started hiring people across the world. This change in business strategies is helping firms to survive in such critical situations and maintain productivity.
4. Reduced Errors and Manual Processes with Automation
One of the huge trends in the accounting industry is the inclusion of automation. With the help of cloud computation accounting, auditors and CPAs get the advantage of automating innumerable data-intensive manual tasks that consumes extra productive time. The best example of the same is data entry work.
Added to such strenuous work, the chances of errors like transcription and transposition becomes evident. For a better and effective collaboration within accounting or CPA firms, automation is a great option, offering better service quality. It is a potent tool to reduce errors, thereby giving a heads up to accuracy and drive efficiency.
In fact, firms enabled with SaaS accounting services are efficient in implementing and managing the service provision, that too with a cost-effective price tag.
You can also be a GameChanger
The features ad possibilities of cloud computing are endless. Moreover, a majority of organizations' lives are getting transformed with cloud computation, especially daily operations. In the past few years, accounting firms have been reaping the benefits of cloud computing. They have been straightforwardly implementing and integrating cloud technology with accounting firms.
Where technology is offering the chance to accounting firms to stand out in the financial industry, it is also bringing out innovative tools and meaningful services, tactfully integrating with the cloud, and changing the complete game plan.