The accountancy sector has been undergoing a massive upgrade, with technologies like Artificial Intelligence (AI) and cloud accounting gaining ground. They are helping accounting businesses grow at an unimaginable pace, bringing state-of-the-art solutions to all modern business problems. 
The combination of AI and modern cloud-based applications makes the future of accounting and finance look extremely flourishing and profitable. Likewise, it seems inevitable for present-day accounting firms and Certified Public Accountants (CPAs) to embrace automated cloud tools operating in tandem with Artificial Intelligence, to optimize their operations, reach a wider audience, achieve greater flexibility, and attain unprecedented business efficiency.
Artificial Intelligence (AI)
AI is one of computer science technology's most promising and futuristic branches. It builds modern machines and tools that aim to replicate human Intelligence. Mostly powered by machine learning, artificial intelligence systems enable users to automatically perform jobs requiring human Intelligence and rational thinking.
Today, AI is growing rapidly, designing machines that execute complex tasks and mimic homo sapiens easily. Tasks such as text recognition were considered innovative breakthroughs but nowadays it is regarded as inherent computing tasks. Besides, AI has now forayed into a more complex territory, bringing innovations like self-driving vehicles.
The impact of AI on the accounting and finance sector, just like every other industry across the business spectrum, has been extraordinary.  Day after day, artificial Intelligence is inventing novel applications that simplify complex, data-intensive accounting tasks. Administrative tasks such as invoice capturing, data entry, and bank reconciliation can be automated with the help of AI, saving valuable time and effort which can be invested in other business-critical tasks.
Benefits of Artificial Intelligence (AI) in Accounting
The following are a few AI benefits that drive the strong impact on accounting:
1. Streamlined Data
Artificial Intelligence helps accountants and finance professionals record lengthy and tedious transactions. It also allows the extraction of data from finance receipts and automatic classification of that data on the basis of its spend category.
2. Enforce Corporate Policies
Identifying non-compliance issues in financial data takes a great amount of time. AI helps enforce corporate policies by regularly scanning employee receipts, travel bookings, credit card transactions, etcetera, to identify transactions that infringe corporate policies. It proves extremely beneficial during auditing as error detection is quick.
3. Minimized Risk of Fraud
Automatic auditing with AI helps accountants detect irregularities in accounting data, eliminating reimbursements of fraudulent spending. AI also manages data influxes without disturbing the overall accuracy of the system.
4. Predicting Trends
AI-based tools help accounting firms analyze market trends to predict future results accurately. It eliminates the human biases from data-intensive activities, making quick predictions to help organizations with revenue forecasting, cash flows, expense planning, etc.
5. AI-powered Chatbots for Customer Service
Accountants and finance professionals are often bombarded with common queries from customers, which can't be left unanswered to maintain the company's reputation and achieve greater customer satisfaction. Thanks to AI-powered chatbots and virtual assistants, these regular customer queries can be handled efficiently. Using Natural Language Processing and Machine Learning, these chatbots offer near human-level experience.
Cloud Accounting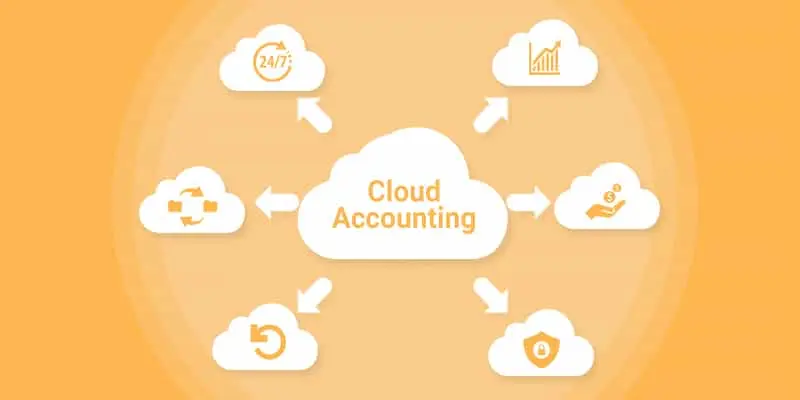 Cloud computing is one of the most exhilarating contemporary technologies, giving accountants access to all their typical accounting resources via the cloud. Cloud-based accounting applications such as QuickBooks help businesses overcome the obstacles of the traditional, on-site, physical accounting infrastructure. Overall, these applications record all sorts of financial transactions, help capture cash flows, generate account reports, and perform complex accounting calculations. These are the major driving factors behind the rapid adoption of cloud accounting tools and internet bookkeeping.
Benefits of Cloud Accounting for Accounting Professionals
Listed below are some of the other benefits that cloud accounting offers:
1. 24/7 Access
Cloud accounting offers all-time resource availability which modern accountants use to their advantage. They can access all their accounting assets in a few clicks, from any geographic location. The on-the-go access helps managers and decision-makers easily monitor their financial data and make timely decisions accordingly.
2. Easy Scalability
The modern, competitive business setup doesn't allow much time for organizations; hence, they have to adapt quickly to the ever-changing business needs. The cloud offers fast scalability options where accounting firms need to raise a mere request to scale their cloud resources up or down. This helps them meet their new data storage requirements quickly without changing their local infrastructure by one tiny bit.
3. Greater Cost-efficiency
Cloud Computing offers inexpensive cloud storage and solutions that make cloud-based accounting more cost-efficient than traditional, local computer-based accounting infrastructure. Accountants can avail all benefits of the cloud with a pay-as-you-go model of payment where they need to pay only for the resources used. There are other cost benefits that accounting firms and CPAs derive from cloud accounting, Zero IT maintenance and lesser power consumption.
4. Enhanced Data Security
Security is one of the biggest concerns for organizations planning to adopt the latest technologies. Accountants deal with critical financial data that needs top-grade security and protection. With all the sophisticated security strategies, the cloud is considered to be more secure than customary physical data servers. It incorporates multiple security layers involving strategies such as data encryption, multi-factor authentication, etc.
5. Advanced Backup Capabilities
In addition to providing top-grade security, the cloud also offers effective backup strategies that help accountants recover their data easily. Direct public cloud backup, Backup-as-a-Service (BaaS), and Cloud-to-Cloud (C2C) backup are some of the widely used backup strategies.
6. Easy File Sharing
Cloud accounting also enables CPAs to easily share accounting data with business partners and clients. Irrespective of their location, multiple users can access the file simultaneously. This eliminates the need to send a file back and forth via email for sharing data.
Accelerate Accounting Pratices with AI and Cloud Accounting
It has already been proven how beneficial both AI and cloud accounting individually are. Their collaboration further extends these benefits. Cloud accounting enables easy integration of Artificial Intelligence, while AI tools are configured to deliver efficient results in cloud-based accounting. AI-enabled cloud accounting helps accountants use technologies like big data and machine learning that provide insight into important business data, assisting decision-makers in making timely and accurate decisions to achieve greater profitability.
AI and the cloud complement each other in the following ways to deliver flexible, efficient services:
Modern AI tools work with private and public clouds to monitor, manage, and even cure issues occurring in various processes.

AI and the cloud help improve data management infrastructure that effectively identifies, ingest, catalogs, and manages accounting data.

AI-SaaS integration is helping accountants utilize dynamic cloud services. For example, an AI-powered dynamic pricing module makes sure the pricing of products and services are always optimized.
Conclusion
Considering all the discrete as well as combined benefits of Artificial Intelligence and cloud accounting, it is clear how much value they bring to an organization. In fact, it would be an understatement to merely say that AI and cloud Accounting are beneficial for an enterprise. They bring great flexibility, efficiency, and profitability, but they make businesses futureproof with their innovative applications, and hence, they are the way forward.